About Us
The Great Lakes Maritime Academy is more than a college experience: As the state maritime academy of Michigan, our college educates and trains the finest deck and engineering officers available to the commercial shipping industry.
The Academy prepares college students to become merchant marine officers and business professionals in the global marketplace. Our training ship State of Michigan, and three smaller vessels are utilized daily as a floating classroom and hands-on learning environment. We set sail at various times throughout the academic year to reinforce the skills taught shoreside. As cadets progress through the Academy, they learn our industry first hand by completing essential sea time aboard commercial ships of the Great Lakes and oceans.
​Great Lakes Campus Map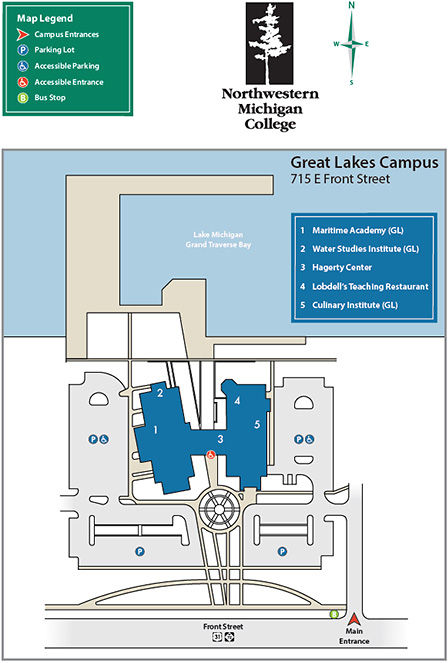 Our adventurous alumni are in demand, and in charge of their futures. Read about and connect with alumni.
Campus Location
The Great Lakes Maritime Academy is located on NMC's Great Lakes Campus, at 715 East Front St., Traverse City, MI 49686. We are on the second floor and west side of the Great Lakes Campus building, in the #2 position on the Great Lakes Campus map.
Custom Directions
For custom driving directions to the Great Lakes Campus from Google, enter your street address, city and state below. (The directions will appear in a new browser window.)
"In the fifteen years since I graduated, I have worked with graduates from all the maritime academies. I would hire a GLMA graduate over every other academy. GLMA graduates are 'boat smart' right out of school."  
TREVOR M. SWEENEY
GLMA graduate, 1995
Casino Boat Captain