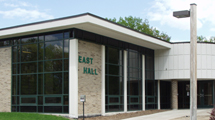 Learn about housing and dining options, and other student resources.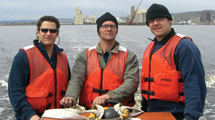 Our training ship State of Michigan introduces you to life aboard ship.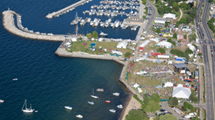 Located in the northwest corner of the lower peninsula of Michigan, the area offers a wealth of recreational opportunities year-round.
Cadet Life
The days of a maritime student, known as a cadet, are busy and rewarding. The combination of academics, lab time, simulation and shipboard training create an exciting hands-on approach to maritime education. Cadets are also part of the student body of Northwestern Michigan College (NMC) and follow the semester schedule of that campus. In addition, cadets sail during some Summer semesters according to their curriculum. Most evenings and weekends are free and many cadets find part-time work opportunities either on or off campus.
Academy Dress
At the Academy, cadets are to be in uniform at all times. While in class, lab situations or aboard ship, safety gear and appropriate uniforms will be required. While attending classes on another campus or in residence halls, uniforms are optional. The Academy educates in a professional manner and cadets do not follow a rigid military schedule. You are, however, required to meet academic standards and demonstrate the self-discipline and leadership qualities expected of a Merchant Marine Officer.
We answer your questions about the Academy, our industry and life as a cadet. Learn more »
Getting Involved
While attending our maritime college, cadets secure friendships that last a lifetime. There are many clubs and organizations at the Academy and on NMC's campus for you to become involved. Automobiles are allowed on campus (no fee for parking), and all the recreational opportunities of northern Michigan are readily available. Explore all the state and national parks that are minutes from our campus. The natural beauty of our region, with hundreds of rivers and lakes, offers an outdoor enthusiast endless opportunities.
Oh the places you'll go!
Want to know where other cadets and alumni have been?
Society of Naval Architecture and Marine Engineering, Women on the Water and a Propeller Club are among the many organizations you can explore as a cadet.
Cadet Gear
"I have one of those old blue Great Lakes Maritime Academy t-shirts and the black training ship shirt in my seabag at all times and wear them out in every country I go to. It started in Dubai and then I just kept packing the shirt and wear it every time I head out in another country. I have to support the Academy, even thousands of miles away."
CHRIS WAUGAMAN
2007 Great Lakes Maritime
Academy engineering graduate