Veterans
Getting Started
Admissions Process: Apply! Contact the Great Lakes Maritime Academy Admissions Office if you have any questions at (231) 995-1200, ext 1.
The Great Lakes Maritime Academy is proud to be a part of Northwestern Michigan College (NMC) and offer our veterans many outstanding services.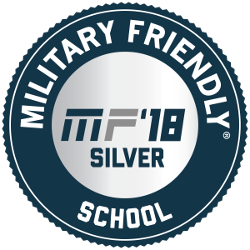 Listed as one of the top five "Best for Vets" community colleges nationwide and one of the top military-friendly schools in the nation, the Great Lakes Maritime Academy and NMC pride themselves on having many services specifically designed to support your individual needs. We will not only ensure that you have a smooth transition but will make sure that you have the necessary support and resources to accomplish your educational goals. Our office of Military & Veteran Services will also assist you in getting connected to campus and community resources.
POC for Military and Veteran Services:
Scott Herzberg
(231) 995-2526
sherzberg@nmc.edu
Thank you for your interest in Great Lakes Maritime Academy, and more importantly, for your service to our country!
Admissions to the Great Lakes Maritime Academy — contact the Great Lakes Maritime Academy Admissions Office.
Admissions Requirements:
A high school diploma or GED
United States citizen
Prior or pending misdemeanors, felonies or legal expungements must be adjudicated by the Maritime Admissions Office.
United States Coast Guard physical standards and all requirements for licensing as a United States Merchant Marine Officer, as established by federal law
ACT or SAT minimum requirements or placement testing results or transferable Intermediate Algebra and English Composition college credits.
New SAT (March 2016 - present, Academy code 6982)

Evidence Based Reading and Writing

Math

Total

530

530

530

ACT (Academy code 1978)

English

Math

Reading

Composite

19

21

19

20

SAT (Academy code 6982)

Reading

Writing

Math

Total

470

470

500

1440

Please note these are the minimal score sets required to be considered for admission into the Academy. Acceptance is competitive.
A completed Application includes:
Official high school transcripts (or GED)
Transcripts from all colleges attended (if any). We highly recommend sending your military transcripts, but they are not required.
Two letters of recommendation with contact information
Undeleted DD-214, Armed Services Discharge Report. Find necessary forms here »
A campus visit is required, but a contingent decision may be granted upon request (prior to visit). Schedule your campus visit »
Financial Resources For Veterans:
Eligibility for DVA educational benefits rests solely with the DVA. You may contact them by calling (888) 442-4551 or visiting the U.S. Department of Veterans Affairs:
News & Events
Resources
DD-214 forms are available online through the National Personnel Records Center. More »
Request Transcripts
While serving, you may have taken military and job-specific courses that are worth college credit. Request your transcripts be sent to the Great Lakes Maritime Academy.
Army, Coast Guard, Marine Corps or Navy: Active Duty, Reserve or Veterans, request transcripts through the Joint Services Transcript site
Important Dates
Maritime classes for incoming first-year cadets begin Fall semester only. The Academy admits cadets on a rolling basis and admits 60 cadets each year; early completion of application materials is advised.
FAFSA forms should be completed as soon as possible after Jan. 1 to be eligible for maximum aid.
Benefit Information
In the News
NMC named a 2017 Military Friendly School
VICTORY MEDIA
NMC selected as a Gold-level Veteran-Friendly School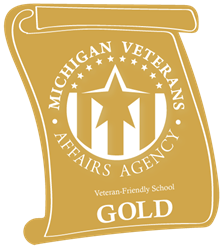 The Michigan Veteran-Friendly School program recognizes academic institutions of higher learning committed to supporting the needs of student veterans and dependents. Read more »
MICHIGAN VETERAN AFFAIRS AGENCY (MVAA)
August, 2016
Northwestern Michigan College was recently named the fifth best community college nationwide on Military Times "Best For Vets" 2016 list. Read more »
THE TICKER
November 12, 2015
What happens to the ones who serve when they come home?
NORTHERN EXPRESS
November 7, 2015
College, state programs prepare veterans for life after military
Scott Herzberg, a member of the consortium's steering committee and military and veteran services adviser at Northwestern Michigan College in Traverse City, said schools need to continually evaluate programs they offer and assess future areas of employment, "so that when these veterans do land on these campuses, ... (we) have the proper support pieces in place." Read more »
CRAIN'S DETROIT BUSINESS
September 13, 2015