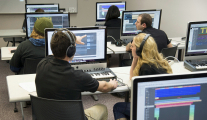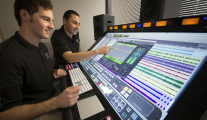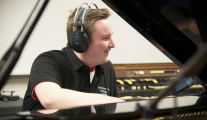 Audio Technology Degrees and Certificates
Students interested in careers in music production and sound recording may enroll in the NMC Audio Tech Program — a program that will prepare students for a career in the audio technology field. Careers in the audio technology field include: Sound Engineer, Recording Engineer, Sound Designer, Live and Theater Sound Engineer, Composer, Mixing Engineer, Mastering Engineer, Archivist, Audio and Visual Equipment Technician, Producer, Broadcast Technician, Pro Tools Operator, Audio Editor, and Audio Post Production.
This program prepares students to master skills and concepts through class, successfully complete Apple Logic Level I Certification, and become a certified user of Pro Tools.


NMC is a both an Apple Authorized Training Center for Education and an Avid Training Center. Students in our Audio Tech program are offered the opportunity to earn certification in Apple Logic Pro X and Avid Pro Tools through their NMC coursework.
Course Sequence Guides
Program Requirements