Record-Setting $2 Million Gift Will Transform The Dennos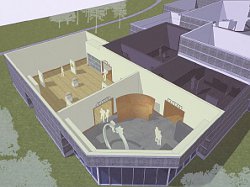 You can often find NMC students at the Dennos Museum Center. You might see someone writing an essay for a history class. Or you might hear a student adjusting sound in the Milliken Auditorium as part of NMC's Audio Technology program.
Since the Dennos opened 25 years ago, it has been a vital part of the community and the College thanks to the support of friends like you. NMC Fellows Diana and Richard Milock have now set the stage for the next 25 years through a generous $2 million donation—the largest gift from living donors in the College's history.
Richard says, "Having been successful in business, the greatest joy I have is giving what I have away. To me, that's fun!"
This gift will create new permanent collection and sculpture galleries, increased storage and classroom space, and an improved loading dock. This means you will soon see more works on display and continue to enjoy performances by outstanding local and international artists.
The new galleries will enhance the ability of NMC faculty to utilize the exhibit space, allowing a student to visit a piece multiple times to understand it more deeply. The improved back-stage functionality will enhance the experience of performing artists and support continued integration with NMC's Audio Technology program. Read more »