MY NMC STORY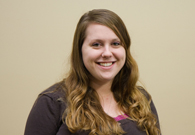 "NMC is an affordable, yet diverse and quality-based institution for those who are not ready to attend a large university."
KRISTINA JOHNSON
Future Students
Ready to come to NMC? You can apply online today!
Admission is open to all high school graduates, or those who have satisfactorily completed the General Education Development (GED) test or individuals 18 years or older.
Admissions checklist
Use our step-by-step guide to begin your studies at NMC »
Our goal is to help all students be successful at NMC. If you have below a 2.0 average on your high school transcript, you may be admitted to NMC on a conditional admission basis. To help you meet your educational goals, you will be fully supported by our Admissions Advisors, Student Success Center and Academic Advisors.
Been an NMC student before?
Welcome back to NMC! As a returning student we simply ask that you update your information with us to ensure accuracy of our records. If it has been more than one semester since you have attended NMC (not counting summer) you can fill out an online application to update your information. No additional application fee is required.
Welcoming new students and giving them the opportunity to connect with those who've been on campus for awhile is the goal of The Muster Project. This new approach to acquainting new students with life at NMC before the semester begins is a great way to connect with new friends and feel more comfortable with the college experience.