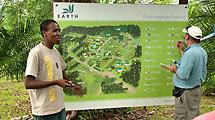 With an associate's degree in Freshwater Studies, graduates can continue in a bachelor's degree program or enter directly into industry jobs.  More »
Freshwater Studies combines unique courses and field experiences leading toward multiple career pathways in water resources. More »
Freshwater Studies has many research projects already in place as well as ties to many local and regional events and organizations. More »
Outstanding Educators
Water Studies Institute Director Hans VanSumeren and Carl Shangraw, surveying engineering professor at Ferris State University, talk about the  Freshwater Studies Program at NMC. The program was one of three winners of the Trends in Occupational Studies' 2013 Outstanding Educator Awards.
NMC's global partnership with EARTH University in Costa Rica is in the news! The latest newsletter of the Community Colleges for International Development, Inc (CCID) features Constanza Hazelwood writing about NMC and EARTH University's efforts to bring global awareness on clean water issues.
CCID is a consortium of 145 two-year higher education institutions in the U.S. and fifteen other countries, and is the pre-eminent two-year college organization in the United States working on providing international networking opportunities to build global relationships that strengthen educational programs, and promote economic development.
Great Lakes Water Studies Institute
Located at the Great Lakes Campus on Grand Traverse Bay, the Great Lakes Water Studies Institute (GLWSI) at Northwestern Michigan College is strategically positioned to engage individuals and organizations, both locally and globally, in advancing skills, knowledge and understanding of the world's dynamic water resources.
What We Offer
The first associate degree in Freshwater Studies in the U.S.
Multiple career pathways including bachelor degree programs
Innovative education, internships and research opportunities
Collaboration with industry, government, universities and community
Unique assets: R/V Northwestern, ROV, hydrographic sonar, water research laboratory