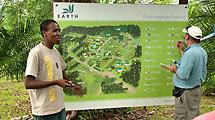 With an associate's degree in Freshwater Studies, graduates can continue in a bachelor's degree program or enter directly into industry jobs.  More »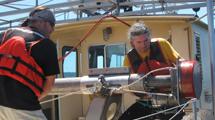 Freshwater Studies combines unique courses and field experiences leading toward multiple career pathways in water resources.  More »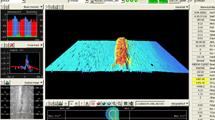 Freshwater Studies has many research projects already in place as well as ties to many local and regional events and organizations.  More »
Great Lakes Water Studies Institute
Located at the Great Lakes Campus on Grand Traverse Bay, the Great Lakes Water Studies Institute (GLWSI) at Northwestern Michigan College is strategically positioned to engage individuals and organizations, both locally and globally, in advancing skills, knowledge and understanding of the world's dynamic water resources.
What We Offer
Multiple career pathways including bachelor's degree programs
Innovative education, internships and research opportunities
Collaboration with industry, government, universities and community
Unique assets: R/V Northwestern, ROV, hydrographic sonar, water research laboratory
NMC offers multiple pathways to complete an ASA or AAS in Freshwater Studies. Inquire about our 1 + 1 hybrid Freshwater Studies Program. Complete your first year online and join us on campus for a second year of coursework by the Grand Traverse Bay.
For more information, contact one of our advisors:
Cathy Jarvi , Freshwater Studies Program Advisor, cjarvi@nmc.edu, (231) 995-3333
Constanza Hazelwood PhD, Freshwater Studies Program Coordinator, chazelwood@nmc.edu, (231) 995-1722
Transition seamlessly from ASA to BS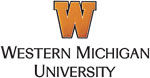 NMC has collaborated with Western Michigan University to offer a BS in Freshwater Science and Sustainability degree in Traverse City. Program highlights:
Interdisciplinary degree with numerous career paths
Integrated curriculum, scheduling and advising
Financial aid agreement allowing for combined courses counting toward aid
All coursework offered in Traverse City
Find out more: Freshwater Science & Sustainability Bachelor's Degree »
West Bay Monitoring buoy
The Great Lakes Water Studies Institute has a solar-powered monitoring buoy in West Bay during the summer that provides seasonal, real-time data on wind speed and direction, air and water temperature, wave height and other information, including video of the bay.
The buoy is part of the National Oceanic and Atmospheric Administration's National Data Buoy Center, which designs, develops, operates and maintains a global network of data collecting buoys and coastal stations.

Areas Of Emphasis
Marine vehicles and instrumentation
Marine data processing and management
Marine acoustics and sonar platforms
Project planning and management
Careers
Marine mapping and hydrography
Marine construction
Marine exploration
Marine science and research
Environmental monitoring
Questions?
Contact Heather Robinson at hrobinson@nmc.edu or (231) 995-1300.