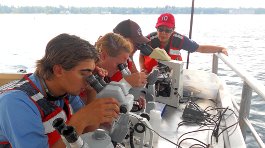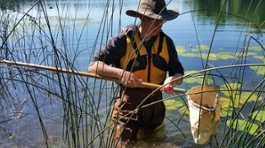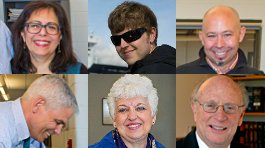 Freshwater Studies Degrees
NMC's Freshwater Studies program, offered through the Great Lakes Water Studies Institute on NMC's Great Lakes Campus, is the first associate degree in Freshwater Studies in the U.S. This science-based program has an interdisciplinary approach, and students can earn an Associate in Science and Arts Degree in Freshwater Studies.
Learn more about courses and faculty and staff.
Program Highlights
Partnership with LSSU for bachelor degrees in Conservation Biology and Fisheries and Wildlife Management
Unique assets: RV Northwestern, Water Quality Analysis Laboratory, water quality sondes
Multiple University Center partnerships for additional bachelor's degrees
Collaboration with local and regional organizations
Partnerships with water-related industries
Local and global internships
Articulation Agreement
Model Schedules
Course Sequence Guide
Program Requirements

Professionals in Environmental Science address job-related questions from students at Western Michigan University.
View the video on a separate page
Create Your Career In Water
NMC offers multiple pathways to complete an ASA or AAS in Freshwater Studies. Inquire about our 1 + 1 hybrid Freshwater Studies Program. Complete your first year online and join us on campus for a second year of coursework by the Grand Traverse Bay.
For more information, contact Constanza Hazelwood PhD, Great Lakes Water Studies Institute Education and Outreach Coordinator, at chazelwood@nmc.edu or (231) 995-1722.

Water Advocacy
Sustainable Water ManagementWater Infrastructure
Natural Resource Management
Scientific Research
Water Policy
Fisheries and Wildlife Management