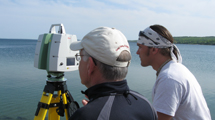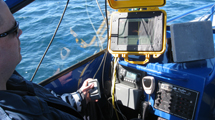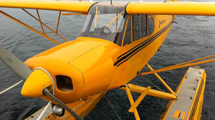 Outstanding Educators
Water Studies Institute Director Hans VanSumeren and Carl Shangraw, surveying engineering professor at Ferris State University, talk about the  Freshwater Studies Program at NMC. The program was one of three winners of the Trends in Occupational Studies' 2013 Outstanding Educator Awards.
Transition seamlessly from ASA to BA
NMC has collaborated with Grand Valley State University to allow Freshwater Studies students to go on to earn a Bachelor's degree in Liberal Studies with an Environmental Leadership emphasis at GVSU's University Center location. Highlights:
All courses for both NMC Associate of Science and Arts degree and GVSU Bachelor's degree will be offered in Traverse City
Attend full- or part-time
Integrated curriculum, scheduling and advising between NMC and GVSU
Financial aid agreement allowing for combined NMC/GVSU courses counting toward aid
Find out more about the GVSU Liberal Studies/Environmental Leadership bachelor's degree »
Freshwater Studies
NMC's Freshwater Studies Program is truly one-of-a-kind. Beginning with the 2009 fall semester, students enrolled in this program are able to earn an Associate in Science and Arts Degree or an Associate in Applied Science Degree for Freshwater Studies — the only one in the United States.
Reflecting rapidly emerging career paths, you will have a choice of three general streams:
The Freshwater Studies degree builds on existing courses such as watershed science and oceanography. Your coursework also will include an introduction to water studies, introduction to GIS (Geographic Information Systems), a field experience and internships.
This science-based program has an interdisciplinary approach designed to offer students flexibility and a variety of opportunities that are especially critical in these challenging economic times. The degree is intended both for students who plan to enter the professional arena as well as those who wish to further their studies at a four-year school.
NMC's Great Lakes Water Studies Institute is located in our Great Lakes Campus on West Grand Traverse Bay. It has an on-site water analysis laboratory and will utilize the T/S Northwestern as a floating classroom for exploration of the Grand Traverse Bay. The Institute has also collaborated with NMC's Aviation program to collect water samples on inland lakes using NMC's float plane.
Students in this program will also have access to:
Research initiatives with University and community partners including the Grand Traverse Bay hydrographic survey project and Grand Traverse Bay Observing System,
Remote investigations with underwater vehicles
Fieldwork opportunities overseas
Internships