Great Lakes Culinary Institute
The Great Lakes Culinary Institute believes in the principle of learning by doing. Extensive hands-on training will give you an edge in this highly competitive field. This program is designed to provide rigorous and concentrated study for those students who plan careers in the rapidly growing food service industry. The program's main emphasis is to prepare students for entry-level chef and kitchen management positions. Consideration is given to the science and techniques associated with the selection, preparation and serving of foods to large and small groups.
The Great Lakes Culinary Institute's facility is located on NMC's Great Lakes Campus. It is comprised of four culinary labs including a bakery, introductory and food skills kitchen, an advanced cooking kitchen, a garde manger kitchen, a beverage management outlet and Lobdell's, a 90-seat training restaurant. Upon graduation, students will have an unbeatable combination of knowledge, skills and work experience.
The Great Lakes Culinary Institute is accredited by the American Culinary Federation and is one of fewer than 150 colleges in the U.S. to receive this distinction. Students are eligible for certification as Certified Culinarians upon graduation. Students wishing to pursue a baccalaureate degree may transfer to institutions with which NMC has transfer agreements.
Located at the Great Lakes Campus, Lobdell's serves as a working laboratory for culinary students and is open to the public for lunches and dinners in fall and spring semester.
The Chef Essentials
Have everything you need for your culinary classes? Visit the NMC bookstore for your chef essentials.
---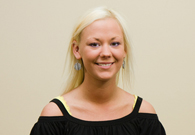 "At NMC I have learned a lot of [culinary] basics that I never knew about. The chefs here are amazing and to learn from them is quite the benefit."
CRYSTAL CREECH