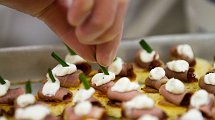 The annual Great Lakes ~ Great Chefs dinner will be held Friday, November 6, 2015.  More »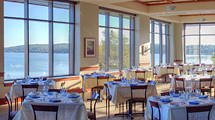 Four training kitchens and an adjacent conference center are among the features of NMC's culinary school.  More »
Lobdell's: A Teaching Restaurant
Enjoy one of the region's finest bayside dining experiences by visiting Lobdell's, a 90-seat restaurant overlooking beautiful Grand Traverse Bay and named in honor of longtime NMC supporters Wayne and Terry Lobdell. Your reservation is appreciated.
Located at the Great Lakes Campus, Lobdell's serves as a working laboratory for culinary students and is open to the public for lunches in the fall and spring semesters. Fall semester service begins September 23, 2015. Lobdell's will be open Tuesdays, Wednesdays and Thursdays 11:30 a.m.–1 p.m. Reservations are highly recommended. Call (231) 995-3120.
To receive e-mail announcements about our fall and spring lunches and dinners, please click here »
Upcoming Events:
Great Lakes ~ Great Chefs Dinner,
Friday, November 6, 6 p.m.
Learn more »
Can't wait for the next culinary event?
Sign up for the culinary newsletter to be notified of upcoming events. Sign up »