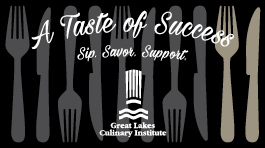 Thank you for joining us on April 29 for a to-go world cuisine tour.  More »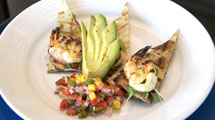 Appetizers, salads, soups, sandwiches and entrées to tempt your taste buds.  More »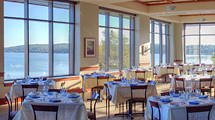 Four training kitchens and an adjacent conference center are among the features of NMC's culinary school.  More »
Lobdell's: A Teaching Restaurant
Enjoy one of the region's finest bayside dining experiences by visiting Lobdell's, a 90-seat restaurant overlooking beautiful Grand Traverse Bay and named in honor of longtime NMC supporters Wayne and Terry Lobdell. Your reservation is appreciated.
Located at the Great Lakes Campus, Lobdell's serves as a working laboratory for culinary students and is open to the public for lunches in the fall and spring semesters. Lobdell's is open Tuesdays, Wednesdays and Thursdays 11:30 a.m.–1 p.m. Reservations are highly recommended. Call (231) 995-3120.
Sign up for email announcements about our fall and spring lunches and dinners here.
Learn more about Lobdell's and the Great Lakes Culinary Institute:
Café Lobdell's
Café Lobdell's opens for the fifth consecutive summer from June 21—July 28. Culinary students make and serve coffee and pastries for dine-in or takeout for their capstone Baking Certificate program course. Cafe Lobdell's is located in Lobdell's Teaching Restaurant on the second level of the Great Lakes campus and is open to the public Tuesdays, Wednesdays and Thursdays from 7:30—11:30 a.m.
---
Can't wait for the next culinary event?
Sign up here for the culinary newsletter to be notified of upcoming events.
---
In the news
Four Foods Finds at Lobdell's: A Teaching Restaurant
9 & 10 NEWS
January 28, 2020
MTM On The Road: Great Lakes Culinary Institute in Traverse City
9 & 10 NEWS
April 17, 2019
Final Service: Culinary Institute Director Fred Laughlin Retiring After 27 Years
THE TICKER
November 9, 2018
From teaching restaurant to Bakery Cafe
Lobdell's transforms itself for summer
RECORD-EAGLE
July 2, 2018
Cafe Lobdell's To Open This Summer
THE TICKER
June 8, 2018
Your Award-Winning Culinary School
THE TICKER
September 2, 2016
The World Inside the Great Lakes Culinary Institute
TRAVERSE, NORTHERN MICHIGAN'S MAGAZINE
March 28, 2016
Well-seasoned restaurant ties cooking students to community
RECORD-EAGLE
December 4, 2015
9 & 10 NEWS
May 7, 2015
Inside Northern Michigan's Chef-Making Machine
NORTHERN EXPRESS
February 22, 2015