Marine Technology Degree
Bachelor of Science – Marine Technology Major
The Marine Technology major at Northwestern Michigan College prepares students to meet the needs of the global marine industry.
Graduates will be highly competitive for global employment opportunities in extremely diverse and fast-growing industries
Program designed to bridge academics with industry in the marine space
Four-year program builds on NMC's Marine Technology associate's degree
Technical training based in NMC's Great Lakes Campus harbor and aboard research vessels
Hands-on access to remotely operated vehicles, multiple SONAR platforms, marine instrumentation and marine data processing software
Coursework and training competencies focused on employer needs and requirements
Highly trained instructors with experience in the industry
Globally, there is a strong need for highly trained people across multiple sectors in marine technology. Building on water-related expertise already established at NMC, this interdisciplinary degree emphasizes the core and marine related technical competencies along with the project management skills required for work in the highly complex marine industry. Graduates of this program can expect to find opportunities in the U.S. and abroad in areas of marine mapping and hydrographic surveying, marine data processing and management, marine platforms and instrumentation and marine project management.
Representing the third bachelor's degree opportunity now available at NMC, Marine Technology builds on an already robust set of offerings supporting multiple sectors of the marine industry.
Background
NMC is home to the Great Lakes Maritime Academy and the Great Lakes Water Studies Institute, and as such is uniquely positioned for teaching, research and public service in marine and maritime studies that lead to multiple degrees. The goal of the Marine Technology program is to develop graduates ready to perform applied technical work in support of the marine industries involving the calibration, deployment, operation, maintenance and management of marine technology assets, including data collection, processing and mapping, for use in the marine environment both offshore and onshore.
Opportunities for such work are worldwide. Career opportunities of various kinds (e.g. operational, management, leadership, etc.) are available for these graduates who are ideally suited for working in both the offshore and onshore markets such as shore-based infrastructure, piers, docks, tunnels, inland lakes, small and large vessels of opportunity, and offshore platforms. The program provides a broad and intensive training in the use of marine related technology and data processing and management.
Our goal is to produce graduates with a strong background in applied fundamentals including engineering technology, general sciences, acoustics, sensors, data processing software, and mathematics, which is reinforced by practical laboratory experiences in onshore, nearshore and offshore areas of the Great Lakes. The curriculum builds on a foundation of basic engineering technology such as GIS, electricity/electrical concepts, CADD, Fluid Power, Computer Information Technologies, and Robotics & Automation to develop interdisciplinary skills required for the practice of marine technology.
Marine Technology major areas of emphasis
Marine vehicles and instrumentation
Marine data processing and management
Marine acoustics and sonar platforms
Project planning and management
Careers
Marine mapping and hydrography
Marine construction
Marine exploration
Marine science and research
Environmental monitoring
Questions?
Contact tech@nmc.edu or (231) 995-1300.
---
In The News
Dams Are High-Tech Learning Centers
CONSUMERS ENERGY HYDRO REPORTER NEWSLETTER
2019
NMC marine tech students find success before, after graduation
TRAVERSE CITY RECORD-EAGLE
January 5, 2018
Marine Technology at Northwestern Michigan College
ROV PLANET
Issue 8, 2016
Underwater Eyes: Great Lakes Water Studies Institute schools students in operating ROVs
UNDERWATER MAGAZINE
November/December, 2015
Going Underwater: NMC's sonar training heralded by marine industry leaders
TRAVERSE CITY BUSINESS NEWS
July, 2015
Technical, specialized programs' enrollment boom
TRAVERSE CITY RECORD-EAGLE
August 21, 2015
Northwestern Michigan College launches remotely operated vehicles into Grand Traverse Bay
UPNORTHLIVE.COM
January 23, 2015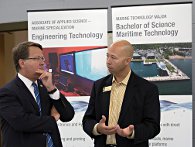 Sen. Gary Peters (D-Mich) tours NMC's Great Lakes Campus and learns about the marine technology bachelor's degree from Hans Van Sumeren, director of the Great Lakes Water Studies Institute, August 20, 2015.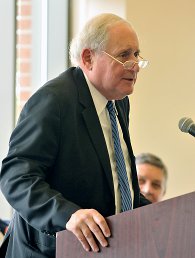 NMC "will continue to be a hub for research in underwater unmanned vehicle development."
SEN. CARL LEVIN, D-MICH.
Great Lakes Campus harbor celebration
October 19, 2014