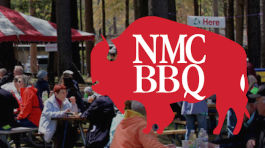 Thank you for coming to the 2020 Virtual BBQ!
The virtual event was held May 15–30.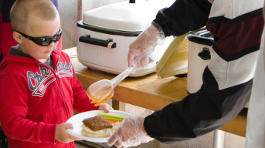 Attendees enjoyed live musical entertainment, children's activities and displays for all ages.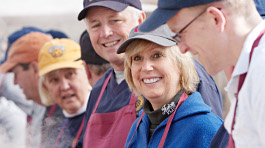 Proceeds from the NMC Barbecue help fund special projects at NMC. View past Barbecue-funded projects here.
NMC Barbecue
The NMC Barbecue has been one of northern Michigan's most popular and enduring traditions. The annual event brought thousands of people to NMC's main campus for an old-fashioned picnic and a chance to see their community college, with nearly 4,000 people turning out to attend the 64th annual barbecue in 2019.
The late Gerald W. Oleson and his wife Frances, founders of Oleson's Food Stores in Traverse City, started the annual fundraiser picnic in 1956. Oleson's Food Stores continued to donate the food, and hundreds of volunteers turned out to make the event happen.
In July 2020, NMC and the Oleson family made the decision that 2020 would be the final year of the NMC BBQ event. The College and the Oleson Foundation remain dedicated to supporting students and continuing the community connection established through the event's proud history. Learn more about the decision here.
Zero waste event
In 2010, the Barbecue Board made a commitment to become a zero-waste event through extensive use of recycling and composting. More than 90 percent of the residuals from the 2011 Barbecue were kept out of a landfill, and by the 2014 Barbecue, that figure had increased to more than 99 percent. The Barbecue thanks the dozens of volunteers who helped guests properly dispose of their materials at recycling/composting stations around campus, and partners American Waste (recycling, equipment), Food for Thought (composting) and Rentals Unlimited (equipment).

Barbecue-funded Projects
Proceeds from the NMC Barbecue help fund special projects at NMC.
---
In the News:
Northwestern Michigan College Hosts Virtual Barbecue
9 & 10 NEWS
May 15, 2020
Annual Northwestern Michigan College barbecue to be held virtually
UPNORTHLIVE.COM
May 15, 2020
Nearly 4,000 enjoy annual Northwestern Michigan College BBQ
UPNORTHLIVE.COM
May 20, 2019
Northwestern Michigan College Serves Thousands of People at Annual Barbecue
9 & 10 NEWS
May 19, 2019
NMC BBQ: One of Northern Michigan's Most Popular and Enduring Traditions
MYNORTH.COM
March 25, 2019
Sunshine, local support a boon for annual NMC barbecue
RECORD-EAGLE
May 21, 2018
Thousands Enjoy 63rd Annual Northwestern Michigan College Barbecue
9 & 10 NEWS
May 20, 2018