NMC Celebrates Martin Luther King, Jr. Day and Black History Month
In honor of King's legacy, NMC held its second campus-wide commemorative event, Embrace the Dream, from January 16 through February 28, 2023. NMC students and employees and the broader community took part in many learning activities and volunteer opportunities throughout the event.
---
Calendar of Events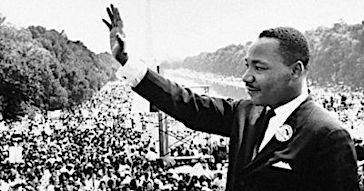 Dr. Martin Luther King, Jr., most famous for his leadership during the civil rights movement and his "I have a dream" speech, once said, "Life's most persistent and urgent question is, 'What are you doing for others?"
Join us as we learn more about those who have impacted our country in support of diversity, equity, and inclusion and as we reflect on our role to support this strategic direction. We hope these activities will provide opportunities to learn and share new perspectives with other students, faculty and staff from all fields and the surrounding campus community. 
---
See NMC Library's curated list of books, films, audio books, childrens' books, podcasts and more.
---
Help provide food and hygiene products to students and their families. Learn more about the Food Pantry here.
---
Quotes by Martin Luther King Jr.:
"Love is the only force capable of transforming an enemy into a friend."
"I have a dream that my four little children will one day live in a nation where they will not be judged by the color of their skin, but by the content of their character."
"Nonviolence is a powerful and just weapon. Indeed, it is a weapon unique in history, which cuts without wounding and ennobles the man who wields it."
"A man dies when he refuses to stand up for that which is right. A man dies when he refuses to stand up for justice. A man dies when he refuses to take a stand for that which is true."
Relevant Books for Children:
Why We Celebrate Martin Luther King Jr. Day: How to Explain the Holiday to Kids
---
To ask questions, or to provide ideas and feedback, please email Lori Hodek.