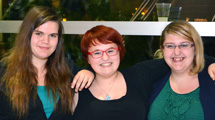 Information for high school students. More »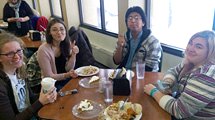 Information for college students. More »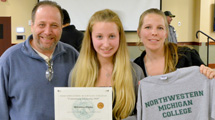 Information for parents and school administrators. More »
Help fund the commitment program
The NMC Commitment Scholarship Program is made possible by individual donors through the NMC Foundation, which provides an endowment for the tuition scholarships.
Many committed individuals have believed in the power of this program and made it the focus of their support for NMC.
"You don't just give us the scholarship in the 8th grade and say good luck! You're with us every step of the way. You don't just help us set goals, you help us reach goals by keeping us focused on college. And here I am at NMC!"
JESSIE MICK
Elk Rapids High School
Commitment Scholarship Program
Since 1993, NMC has promised a college education to selected northern Michigan ninth graders who show academic promise and have financial need. Like all commitments, the program works two ways:
NMC, with area high schools, commits to:
A continuous academic advisory program
On-campus and off-campus enrichment activities, including a weekend summer adventure, overnight stay at NMC, trips and cultural activities
A tuition scholarship to NMC, for 64 credits within three years
The student, in partnership with his/her parents, commits to:
Regular participation in the program activities
Demonstration of good citizenship
Completion of high school course requirements and graduation with a minimum of a 2.33 grade point average
Submission of The Commitment Scholarship Agreement Contract
A history of success
More than 1,000 student participants from Antrim, Benzie, Grand Traverse, Kalkaska, Leelanau, and other counties
91 percent successfully completed the program requirements
74 percent of those who completed go on to attend college
A number of commitment scholars have help leadership position in the prestigious Phi Theta Kappa, International Honors Society
Successful commitment scholars have continued their education at many universities, including Central Michigan, Davenport, Ferris State, Grand Valley State, Michigan State, Michigan Tech, and the University of Michigan