Tugboat to expand GLMA's sea time options and credentials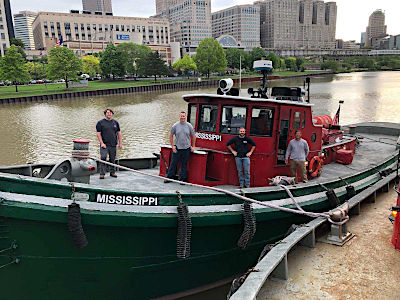 The GLMA tugboat Mississippi crew in Cleveland about to get underway. From left to right: Ryan Anderson (Engine), Zach Drenth (Deck), Dan Zassick (Mate), Cary Godwin (Captain). (download a high-resolution version here)TRAVERSE CITY — A new vessel, the tugboat Mississippi, will join the Great Lakes Maritime Academy's fleet on a leased basis next week, increasing cadet options for completing sea time requirements as well as the credentials they receive at graduation.
Captained by Cary Godwin, a GLMA crew of four departed from Cleveland today aboard the tugboat and are expected to arrive Sunday or Monday at NMC's Great Lakes campus harbor.
Adding the Mississippi to the Academy's fleet will offer greater assurance to Maritime cadets that they will be able to complete their required 360 days of sea time before graduation. Cadets complete their sea time requirements during three sea projects, the first of which is completed aboard the T/S State of Michigan, GLMA's flagship vessel since 2002.
Many cadets accrue the remaining sea time aboard commercial vessels. However, berths on commercial vessels are increasingly difficult to obtain, said GLMA superintendent Jerry Achenbach. This is due to GLMA being at full enrollment, with at least 21 students on a waiting list for admission this fall.
The Mississippi will provide another option for cadets to earn sea time. It will also allow Maritime deck cadets to earn an additional endorsement enabling them to serve as a licensed officer on a tow vessel. This will substantially increase their post-graduation employment options.
"It would be great to come out of the Academy with pilotage and a towing endorsement. That's going to be amazing in terms of job opportunities," said Margaret Handel, a 2020 Maritime graduate who needs to complete just 35 days of sea time.
She had hoped to do so aboard a commercial vessel, but said the tugboat would be a great substitute, especially since the coronavirus pandemic has made it even more difficult to get sea time.
Cadet Zachary Ferguson agreed. He is set to graduate in 2021 and needs 96 more days of sea time.
"There's lots of days we're behind (due to the pandemic.) The tug is really going to help to try and make up those days. Every day counts," he said.
In March, NMC trustees unanimously approved leasing the Mississippi for six months at a cost of $73,800. Including fuel ($100,000), insurance and instructor salaries, it will cost an estimated $188,000 to operate the tugboat this year.
As the state maritime academy of Michigan, the Great Lakes Maritime Academy at Northwestern Michigan College educates and trains deck and engineering officers for the U.S. Merchant Marine. Graduates earn a bachelor's degree, and an unlimited tonnage/ horsepower merchant marine license. Read more about the Academy at nmc.edu/maritime.
Editors: If you would like to cover the arrival of the tugboat in Traverse City, text (231) 392-1800 to receive a more specific arrival time when it is known.
Release date: May 29, 2020
For more information:
RADM Jerry Achenbach
Great Lakes Maritime Academy Superintendent
(231) 995-1203
gachenbach@nmc.edu
NON-DISCRIMINATION POLICY NOTICE
Northwestern Michigan College is committed to a policy of equal opportunity for all persons and does not unlawfully discriminate on the basis of race, color, national origin, religion, disability, genetic information, height, weight, marital status or veteran status in employment, educational programs and activities, and admissions.
nmc.edu/non-discrimination