New Timothy J. Nelson Innovation Center Construction Complete Ahead of Fall Semester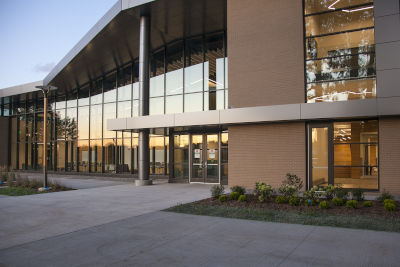 Entrance (download a high-resolution version here)TRAVERSE CITY — The Timothy J. Nelson Innovation Center on Northwestern Michigan College's main campus is substantially complete and ready for the Fall 2020 semester. The building is now open to NMC employees and students after receiving its letter of occupancy from the state fire marshal.
The building's Hawk Owl Café food court is expected to open by Thursday, August 20 for the college's Welcome Weekend for new and returning students, following a July 29 county health department inspection.
The building will be limited to about 50 percent of its maximum capacity for now, along with other NMC facilities, as the college reopens. NMC is in Stage 2 of its 4-Stage Reopening Plan, which allows employees and students on campus Monday through Thursday and others on campus by appointment.
Due to stay-at-home orders caused by the coronavirus pandemic, work on the building was paused for a month beginning March 24. As restrictions eased, outdoor landscaping work began April 24. Construction on the building itself resumed May 7. The NMC Library was the first department to occupy the 54,000-square-foot facility, moving into its second-floor space June 9. Radio station WNMC will follow later this summer.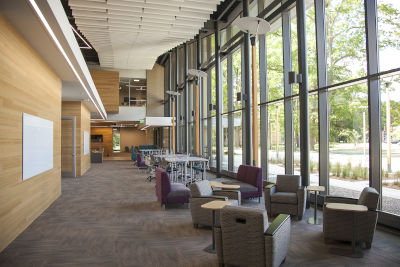 Atrium (download a high-resolution version here)Work on the $14.4 million project began in the late summer of 2018. The project combines state investments of more than $7 million for important renovations and modernizations of the 50-year-old West Hall building with NMC-funded investments of more than $7 million to create a multi-story facility with innovative and transformative learning environments and multiple academic and simulation spaces. An additional $6 million was involved in moving the library from its location in the Osterlin Building to the building and constructing that part of the building, where it will offer expanded services and hours.
The project has received extensive campus, community and legislative support. NMC is planning a virtual ribbon cutting ceremony and tour during the fall semester.
Release date: August 5, 2020
For more information:
Diana Fairbanks
Executive Director of Public Relations, Marketing and Communication
dfairbanks@nmc.edu
(231) 995-1019
NON-DISCRIMINATION POLICY NOTICE
Northwestern Michigan College is committed to a policy of equal opportunity for all persons and does not unlawfully discriminate on the basis of race, color, national origin, religion, disability, genetic information, height, weight, marital status or veteran status in employment, educational programs and activities, and admissions.
nmc.edu/non-discrimination