NMC creates first position dedicated to DEI
TRAVERSE CITY — Northwestern Michigan College has tapped longtime college staff member Marcus Bennett, Ed.D., to serve as Special Assistant to the President for Diversity, Equity and Inclusion (DEI) beginning July 1. This is the college's first position dedicated to DEI.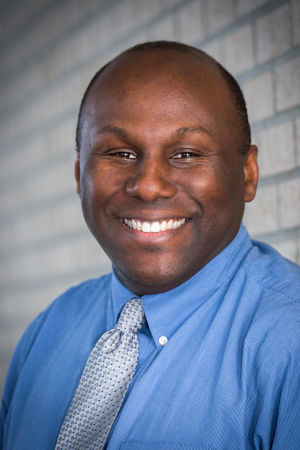 Marcus Bennett (download a high-resolution version here)Bennett, who holds a doctorate in community college leadership from Ferris State University and a certificate on Diversity, Equity and Inclusion in the workplace from the University of South Florida, has worked at NMC for more than a decade. He is currently associate dean of campus and residence life.
"I am proud to have the opportunity to help our college grow in this area. I've seen first hand some of the challenges our students face and am inspired by the commitment of our NMC community to create positive change," Bennett said.
DEI duties will comprise half Bennett's job beginning in July. He will continue as associate dean of campus life. In that role, he and his family lived on NMC's main campus and he is well-known and respected by students, staff and faculty alike.
Establishment of the new position fulfills a key objective within the DEI strategic area of NMC's just-completed strategic plan, NMC Next. Expected to receive final approval from NMC's Board of Trustees later this month, the plan is the product of nearly a year of input from more than 1,000 participants including community members, alumni, faculty, staff, students and donors.
Bennett has been a member of NMC's DEI advisory committee, chartered by President Nick Nissley in summer 2020. That committee issued a DEI benchmarking report in fall 2021. Its research and conclusions helped inform objectives and action steps in the strategic planning process, particularly around areas of student success.
"Marcus' appointment takes NMC's commitment to diversity and inclusion to the next level," Nissley said. "Our research shows we have work to do in this area to help our students succeed. I believe this is a critical step to help us get there."
Bennett is on track to complete two other certifications this year, one in Diversity and Inclusion from Cornell University, and another in Ethical and Inclusive Leadership from USF.
Prior to joining NMC in 2011, Bennett was a member of the Office of Residence Life staff at Saginaw Valley State University from 2003–2011.
Release date: January 10, 2022
For more information:
Diana Fairbanks
Associate Vice President of Public Relations, Marketing and Communications
dfairbanks@nmc.edu
(231) 995-1019
NON-DISCRIMINATION POLICY NOTICE
Northwestern Michigan College is committed to a policy of equal opportunity for all persons and does not unlawfully discriminate on the basis of race, color, national origin, religion, disability, genetic information, height, weight, marital status or veteran status in employment, educational programs and activities, and admissions.
nmc.edu/non-discrimination