Student Success Testing Center
Placement Testing
Sign up below for Accuplacer placement testing. Testing is available in person at the NMC Testing Center. Please arrive at least 90 minutes prior to close to ensure enough time for testing.
Online testing is available if you cannot make it to campus. Please schedule as follows:
For more information on placement and how to prepare, please visit nmc.edu/placement.
Test Proctoring
The testing center is open. Make an appointment here through My Success or by calling (231) 995-2134.
This service provides flexible hours for faculty and students to access academic out-of-class testing, make up testing, and placement testing. Test proctoring is provided during the hours that the center is open.
Proctoring services are available for:
Accuplacer Math Placement exams (online over Zoom or in person at the testing center)
Language placement courses
NMC courses
CLEP / DSST Testing: Get 50% off your next CLEP exam!
Courses at other Michigan colleges or universities
Testing through Michigan Colleges Online
Out-of-state colleges
HESI Testing - You will need to register and purchase the test before coming in to take it. Walk-ins are welcome but please note this test usually takes a least 4 hours to complete. Find more information at nmc.edu/nursing.
Testing Guidelines
Meet Our Staff
Sally Smarsty
Student Success Coordinator
My name is Sally Smarsty and I am your Student Success Coordinator! I know that everyone has different goals and strengths. We are here to play up your strengths and work on your shortcomings.
Katy Knight
Student Success Specialist
Hi, my name is Katy Knight and I am the Student Success Specialist at NMC. I am here to help in all things Student Success, from testing and coaching to workshops and events. I am honored and excited to be here in this beautiful city working with the immensely talented and promising students here at NMC.
Tom Auch
Student Success Proctor
My name is Tom Auch and I have degrees from Michigan State University and the University of Colorado, Boulder. I have been employed at NMC for over 20 years. I have taught in the Visual Communications department, Business division, photographer and columnist for the White Pine Press. I am a proud member of the Student Success Center and available to assist students and faculty most anytime!
John Walker
Student Success Proctor
My name is John Walker and I am one of the Test Proctors. My background is in managing Manufacturing Organizations. I have experience in all facets of an organization including Engineering, Finance, Manufacturing, Quality, scheduling, Inventory control, and Maintenance. Possessing a Six Sigma Black Belt I still do some business consulting. I am here to administer tests for the professors at NMC.
Nicole Wenstrup
Student Success Proctor
Hi, I'm Nicole and I'm one of the test proctors here at NMC. I'm also a librarian at TADL, so you might see me there at the circulation desk! I like to read, play games, and learn languages when I'm not working.
Melanie Griffith
Student Success Proctor
Hello! My name is Melanie, and I am one of the proctors and a success coach. When I'm not hanging out in the Success Center, I love spending time with my family, hiking, reading, and baking. Stop in and say hi-we love connecting with students!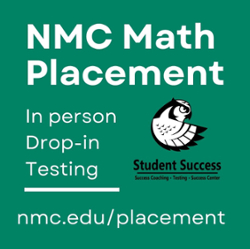 On your testing day:
Bring Photo ID (drivers license, passport, student ID are all accepted)
Calculators are not allowed unless you have a prescribed accommodation. A calculator will pop up on your screen for questions that it is allowed.
We provide scrap paper in the testing room
Plan on 90 minutes to complete the test
Our Testing Center is located at 1701 E. Front Street, Traverse City, MI 49686 Osterlin Building
---
Chat with us!
Use the Live Chat link below to connect with a member of the NMC Success Team!
Student Success Center Hours
The NMC Testing center is open! Current students can make an appointment through My Success here. If you are unable to schedule online, please call us at (231) 995-2134.
 fall semester hours: August 27–December 17
 Sunday: 3 p.m.– 8 p.m.
Monday: 8 a.m.–8 p.m.
Tuesday: 8 a.m.–5 p.m.
Wednesday: 8 a.m.–5 p.m.
Thursday: 8 a.m.–8 p.m.
Friday: 8 a.m.–5 p.m.
Saturday: CLOSED
In between semester hours: December 19th-January 16
Sunday: CLOSED
Monday: 8 a.m.–5 p.m.
Tuesday: 8 a.m.–5 p.m.
Wednesday: 8 a.m.–5 p.m.
Thursday: 8 a.m.–5 p.m.
Friday: 8 a.m.–5 p.m.
Saturday: CLOSED
Location
The Student Success Center is located on NMC's main campus in the Osterlin Building (#3 on the Main Campus Map). The closest on-campus parking is in the Birch and Cedar lots. Get directions to Main Campus.
Student Success Links
How to zoom
Has everyone moved to Zoom and you aren't sure how to get there? Watch our short tutorial!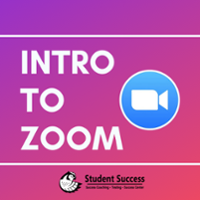 Student Success Ambassadors
We're always looking for students who are connected on campus and the community and are willing to help other students feel the same! Fill out our NMC Student Success Ambassador application form to get started!