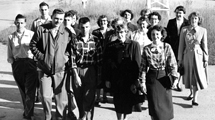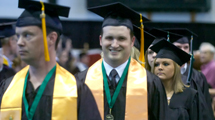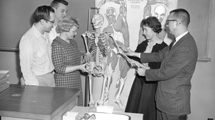 Ross Biederman,
NMC Outstanding Alumnus
60th Anniversary Celebration
Jan. 25, 2011
NMC hymn 
NMC music director Jeffrey Cobb recorded an instrumental version of a mysterious NMC hymn. Other than its composer, L. Marguerite House, little is known about its origin and use.
Lyrics:
Our northland home, we sing to thee,
Northwestern by the Bay
The scarlet of your sunset,
Against a sea of grey
We cheer your colors, let them wave,
And bring our college fame
Northwestern by the Bay,
All honor to thy name
NMC's 60th Anniversary
Northwestern Michigan College began its 60th year in the fall of 2011. The first day of classes at NMC was Sept. 17, 1951.
We celebrated this milestone year by recognizing the many people and organizations who helped — and who continue to help — make NMC possible.
We also published a third volume of NMC's history, "Under the Pines: The Third Twenty Years" in 2013.
Honor someone
When you make your gift to the annual Campaign for Scholarships & Programs, we invite you to do so in honor of someone who made a difference for you at NMC.