Inaugural VP for Strategic Initiatives selected at NMC
TRAVERSE CITY — Northwestern Michigan College has selected Jason Slade as the college's inaugural Vice President for Strategic Initiatives, a newly-created executive role in which he will be tasked with charting the college's future direction.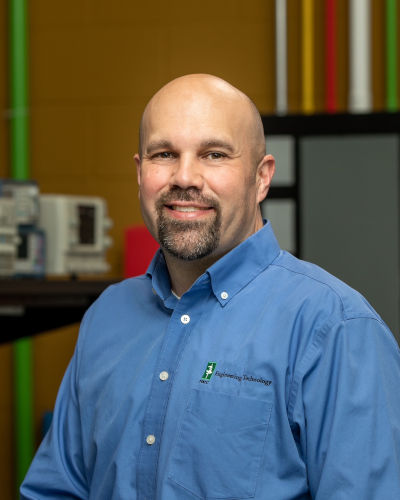 Jason Slade (download a high-resolution version here)Currently director of NMC's Technical Division, Slade rose above more than 90 applicants in a nationwide search. He will begin his new role November 29, 2021.
Since the spring NMC has been reimagining the Lifelong and Professional Learning area of the college after longtime college leader Marguerite Cotto announced she would retire at the end of 2021. The new position was created by realigning executive leadership responsibilities, and does not add an additional administrator. The primary focus areas of the Vice President for Strategic Initiatives will include:
Strategic plan implementation
Innovation management
Revenue generation
Business partnerships
"The search process was thorough and inclusive," said NMC President Nick Nissley. "I can now say with confidence that the college is poised to build upon our strong past and develop new ways to meet the evolving needs of our diverse stakeholder groups."
Slade joined NMC as a faculty member in 2014 after working in both private industry and higher education downstate. He was the 2015-16 recipient of the NISOD award for teaching excellence. Affiliated with the University of Texas at Austin, NISOD is committed to promoting and celebrating excellence in teaching, learning, and leadership at community and technical colleges. He became director of the Technical Division in 2019, which includes NMC's Automotive, Construction Technology, Engineering Technology, REnewable Energy, Surveying, and Welding Technology departments.
"I am humbled and grateful for the opportunity to strengthen and expand the ways our college serves our students and communities. NMC has a proud history and I know our future holds many more exciting successes," Slade said.
He will work closely with Cotto as she prepares for retirement after serving the college for 40 years. They will also work together to plan for future leadership of the Technical Division.
Release date: October 14, 2021
For more information:
Diana Fairbanks
Associate Vice President of Public Relations, Marketing and Communications
dfairbanks@nmc.edu
(231) 995-1019
NON-DISCRIMINATION POLICY NOTICE
Northwestern Michigan College is committed to a policy of equal opportunity for all persons and does not unlawfully discriminate on the basis of race, color, national origin, religion, disability, genetic information, height, weight, marital status or veteran status in employment, educational programs and activities, and admissions.
nmc.edu/non-discrimination