New archivist joins NMC
TRAVERSE CITY — NMC has welcomed a new steward of the college's institutional memory, archivist and librarian Michelle Seman.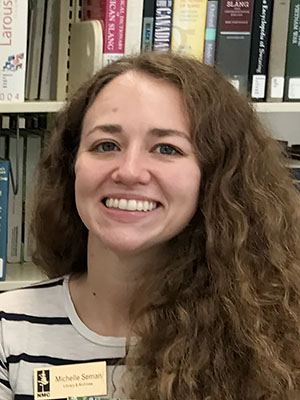 Michelle Seman (download a high-resolution version here)Seman succeeds Ann Swaney, who retired in October after 38 years with the college, or more than half of NMC's entire 70-year history. She said one of her goals is to make archival materials more accessible to the community. The archives are currently housed in the basement of the Osterlin Building. While materials will remain there, renovations are underway to convert former offices on the second floor into space better suited to research.
"It'll be more research-friendly," said Seman, a 2010 graduate of Traverse City Central High School. She earned a master's degree in library and information science with a concentration in archives from the University of Wisconsin-Milwaukee in 2020.
Historic photographs and yearbooks are among the most popular items in the NMC Archives, Seman said. Some of these are available online at nmc.edu/archives. Seman is available to assist the public with archival research. Email mseman@nmc.edu or call (231) 995-1016.
Release date: November 5, 2021
For more information:
Diana Fairbanks
Associate Vice President of Public Relations, Marketing and Communications
dfairbanks@nmc.edu
(231) 995-1019
NON-DISCRIMINATION POLICY NOTICE
Northwestern Michigan College is committed to a policy of equal opportunity for all persons and does not unlawfully discriminate on the basis of race, color, national origin, religion, disability, genetic information, height, weight, marital status or veteran status in employment, educational programs and activities, and admissions.
nmc.edu/non-discrimination