Ross Childs, Ann Rogers named NMC Fellows
TRAVERSE CITY — Northwestern Michigan College's highest honor, the NMC Fellow award, has been bestowed for 2022 on former trustee K. Ross Childs and longtime college supporter Ann Rogers.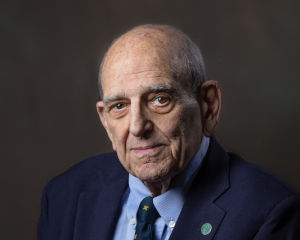 Ross Childs (download a high-resolution version here)The two Traverse City residents each have supported the college for decades. Childs (right) served as a member of the NMC Foundation Board from 1990–1999 and as an elected member of the Board of Trustees from 2001-2020. He bookended those two decades by serving on the search committees that led to the selections of both immediate past NMC president Tim Nelson and current president Nick Nissley.
Childs epitomizes NMC values including integrity, collaboration, respect, stewardship and excellence. During his trustee service, which included two years as board chair, NMC continued to grow and flourish. Childs and his late wife, Helen, have also supported NMC philanthropically for 35 years.
Ann Rogers' support and advocacy for NMC spans more than six decades and three generations of family. Her late husband, science instructor and 1985 Fellow Joe Rogers, spearheaded the construction of the Rogers Observatory, and she created a science scholarship as a birthday gift to him. She went on to create four scholarships, the most recent being in support of students who are active in diversity, equity, and inclusion (DEI) work at the college.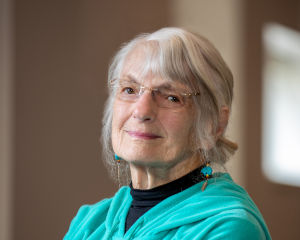 Ann Rogers (download a high-resolution version here)Environmental advocacy is Rogers' (right) other passion. She is a longtime member of the Northern Michigan Environmental Action Council, and can frequently be found walking across campus, taking stock of the native plants and trees she helped to plant, including clones of champion trees propagated by NMC's 2020 Outstanding Alumnus David Milarch. Rogers is the mother of two former NMC students, and grandmother to three.
The Fellow is Northwestern Michigan College's highest honor, awarded since 1964. Fellows may be nominated because they have demonstrated influential networking on behalf of the College, have demonstrated a pattern of outstanding financial or personal time contributions to NMC, or as a retiree of the College continue to contribute back to their academic or professional fields as volunteers, mentors or advisors. Exceptional contributions in one or more of these areas may justify nomination
See a list of past recipients.
Release date: April 25, 2022
For more information:
Diana Fairbanks
Associate Vice President of Public Relations, Marketing and Communications
dfairbanks@nmc.edu
(231) 995-1019
NON-DISCRIMINATION POLICY NOTICE
Northwestern Michigan College is committed to a policy of equal opportunity for all persons and does not unlawfully discriminate on the basis of race, color, national origin, religion, disability, genetic information, height, weight, marital status or veteran status in employment, educational programs and activities, and admissions.
nmc.edu/non-discrimination