NMC Fellows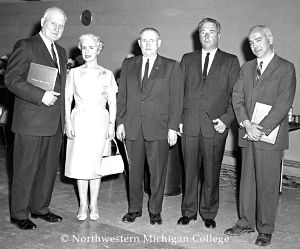 The Fellow is Northwestern Michigan College's highest honor, awarded annually since 1964. Fellows may be nominated because they have demonstrated influential networking on behalf of the College, have demonstrated a pattern of outstanding financial or personal time contributions to NMC, or as a retiree of the College continue to contribute back to their academic or professional fields as volunteers, mentors or advisors. Exceptional contributions in one or more of these areas may justify nomination. No staff, faculty, or trustee shall be named a Fellow while still employed or in office.
2020 recipients: BILL MARSH JR. and ROBERTA TEAHEN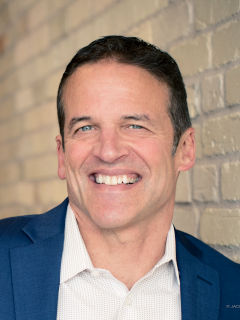 NMC Foundation Board member Bill Marsh Jr. and longtime college administrator Roberta Teahen are the 2020 Fellow recipients.
Marsh, of Traverse City, joined the Foundation Board in 2010 and served as chair from 2016-2018. A partner with his brothers in the Bill Marsh Auto Group, a multi-franchise dealership group with more than 300 employees, he served as annual fund co-chair before joining the executive committee as an officer.
Marsh said he admires NMC's wide reach and profound impact on northern Michigan, as well as the "strategic, entrepreneurial spirit" he sees among college faculty and staff.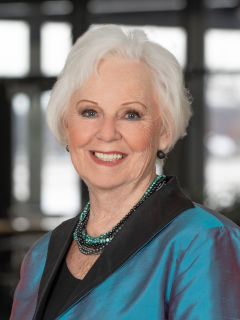 Teahen, also of Traverse City, dedicated more than 30 years of her professional life to NMC in roles ranging from business faculty member to academic chair to director and dean. She established important outreach and relationships and fostered technical and occupational programs and certificates across multiple disciplines.
"Education is never lost. Once you have it, it's yours forever, and it opens doors," said Teahen, who retired from NMC in 2001. Serving at Ferris State University since then, she dedicated her talents to helping other institutions improve and is now director of the doctorate in Community College Leadership program, which counts three NMC staff as alumni. Teahen has also made nearly 100 site visits to evaluate colleges of all types as a consultant for the Higher Learning Commission.
"I am sold on the community college," said Teahen, whose own education path started at what is now St. Clair Community College and culminated in 2010 when she earned a PhD in Higher, Adult, and Lifelong Education from Michigan State University.
2019: Daniel and Debra Edson
2016: Chuck Judson
2015: Bruce Byl
2014: Richard and Diana Milock
2012: Hettie Molvang
2011: Terry S. Malone
2010: James MacInnes, Elaine C. Wood
2009: Jean Howard, Ted Kidd, Phyllis Kidd, D. Jerome Slack, Margery Slack
2008: Charles E. Benson, Barbara S. Benson, Louise Hagerty, Wayne H. Lobdell, Terry Lobdell
2007: Donald Oleson, Sr., Gerald Oleson, Jr.
2006: Walter E. Beardslee, Elaine L. Beardslee
2005: William G. Janis, Jacqueline E. Ribel, Mark L. Ribel
2004: Rotary Charities of Traverse City
2003: Christian P. Kamm, Shirley S. Okerstrom
2002: Marvin Rorick, Luella Rorick
2001: George C. Comden, Bart T. Stupak, Norman Veliquette, Marjory Veliquette
2000: Nick Rajkovich, Frances Rajkovich
1999: Robert T. Hughes, Robert Rudd, Grace Rudd, Capt. George J. Ryan
1998: Thomas C. Jones, Edward C. Walker
1997: James J. Beckett, Al Shumsky, Dudley Smith, Barbara Smith III
1996: David Lee Gray, Paul T. Johnson, Frances B. Johnson, Donald W. Nugent, Gail M. Nugent
1995: Dr. Charles D. Kesner, Richard W. Olson, Dr. C. Russell Wentworth
1994: Dr. Charles Kelly, Dolores Kelly, Barbara I.C. MacFarlane, Jane E. Norton, Frank E. Noverr
1993: Walter Holland
1992: Susie (Kildee) Janis, Paul Welch
1991: Sen. George A. McManus, Jr.
1990: Helen W. Milliken, JoAnne M. Zimmerman
1989: Gordon Lightfoot, Arthur M. Schmuckal, Mary E. Schmuckal, Adm. Willard J. Smith, U.S.C.G.
1988: Robert L. Goff, Jack B. Stegenga
1987: Marie G. McCarthy, Mrs. William E. Votruba
1986: Bernard C. Rink
1985: Frank W. Tezak, Ralph J. Lautner, Mary E. Lautner, Joseph H. Rogers
1984: Alice A. Drulard, Blake Forslund
1983: Michael Dennos, Barbara Dennos, V. Adm. Paul E. Trimble (Ret.)
1981: Lester M. Biederman, Warren W. Cline, M.D.
1980: Lt. Gov. Connie Binsfeld
1979: Doris Nerbonne, Everett R. Hames
1978: John L. Horton
1977: Julius C. Sleder
1976: Ferris N. Crawford
1974: James P. DeLapa, Andrew L. Olson
1973: Harry L. Weitz, M.D., Sen. Robert P. Griffin
1972: Dorothy C. Hall, Preston N. Tanis
1971: James E. Clune, Arthur G. Whitelock
1970: Harry T. Running, Mrs. Mark (Helen) Osterlin
1969: Corrine J. Naar
1968: Julius H. Beers
1967: Eugene B. Power
1966: Wilbur C. Munnecke
1965: George I. Altenburg, Gov. William G. Milliken, Leslie Tremaine, Bernice Tremaine
1964: Arnell G. Engstrom, Gerald Oleson, Frances Oleson, Ferris J. Rennie, Harold Wise, Imogene Wise, Ellis A. Wunsch, Ph.D.