NMC Fellows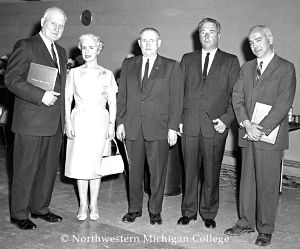 The Fellow is Northwestern Michigan College's highest honor, awarded since 1964. Fellows may be nominated because they have demonstrated influential networking on behalf of the College, have demonstrated a pattern of outstanding financial or personal time contributions to NMC, or as a retiree of the College continue to contribute back to their academic or professional fields as volunteers, mentors or advisors. Exceptional contributions in one or more of these areas may justify nomination. No staff, faculty, or trustee shall be named a Fellow while still employed or in office.
2022 recipients: Ross childs and Ann Rogers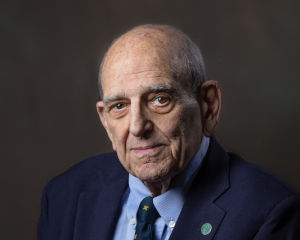 Ross Childs (download a high-resolution version)The two Traverse City residents each have supported the college for decades. Childs (right) served as a member of the NMC Foundation Board from 1990–1999 and as an elected member of the Board of Trustees from 2001–2020. He bookended those two decades by serving on the search committees that led to the selections of both Tim Nelson and Nick Nissley as NMC presidents.
Childs epitomizes NMC values including integrity, collaboration, respect, stewardship and excellence. During his trustee service, which included two years as board chair, NMC continued to grow and flourish. Childs and his late wife, Helen, have also supported NMC philanthropically for 35 years.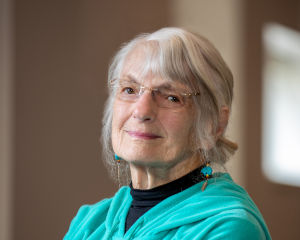 Ann Rogers (download a high-resolution version)Ann Rogers' (right) support and advocacy for NMC spans more than six decades and three generations of family. Her late husband, science instructor and 1985 Fellow Joe Rogers, spearheaded the construction of the Rogers Observatory, and she created a science scholarship as a birthday gift to him. She went on to create four scholarships, the most recent being in support of students who are active in diversity, equity and inclusion (DEI) work at the college.
Environmental advocacy is Rogers' other passion. She is a longtime member of the Northern Michigan Environmental Action Council, and can frequently be found walking across campus, taking stock of the native plants and trees she helped to plant, including clones of champion trees propagated by NMC's 2020 Outstanding Alumnus David Milarch. Rogers is the mother of two former NMC students, and grandmother to three.
2019: Daniel and Debra Edson
2016: Chuck Judson
2015: Bruce Byl
2014: Richard and Diana Milock
2012: Hettie Molvang
2011: Terry S. Malone
2010: James MacInnes, Elaine C. Wood
2009: Jean Howard, Ted Kidd, Phyllis Kidd, D. Jerome Slack, Margery Slack
2008: Charles E. Benson, Barbara S. Benson, Louise Hagerty, Wayne H. Lobdell, Terry Lobdell
2007: Donald Oleson, Sr., Gerald Oleson, Jr.
2006: Walter E. Beardslee, Elaine L. Beardslee
2005: William G. Janis, Jacqueline E. Ribel, Mark L. Ribel
2004: Rotary Charities of Traverse City
2003: Christian P. Kamm, Shirley S. Okerstrom
2002: Marvin Rorick, Luella Rorick
2001: George C. Comden, Bart T. Stupak, Norman Veliquette, Marjory Veliquette
2000: Nick Rajkovich, Frances Rajkovich
1999: Robert T. Hughes, Robert Rudd, Grace Rudd, Capt. George J. Ryan
1998: Thomas C. Jones, Edward C. Walker
1997: James J. Beckett, Al Shumsky, Dudley Smith, Barbara Smith III
1996: David Lee Gray, Paul T. Johnson, Frances B. Johnson, Donald W. Nugent, Gail M. Nugent
1995: Dr. Charles D. Kesner, Richard W. Olson, Dr. C. Russell Wentworth
1994: Dr. Charles Kelly, Dolores Kelly, Barbara I.C. MacFarlane, Jane E. Norton, Frank E. Noverr
1993: Walter Holland
1992: Susie (Kildee) Janis, Paul Welch
1991: Sen. George A. McManus, Jr.
1990: Helen W. Milliken, JoAnne M. Zimmerman
1989: Gordon Lightfoot, Arthur M. Schmuckal, Mary E. Schmuckal, Adm. Willard J. Smith, U.S.C.G.
1988: Robert L. Goff, Jack B. Stegenga
1987: Marie G. McCarthy, Mrs. William E. Votruba
1986: Bernard C. Rink
1985: Frank W. Tezak, Ralph J. Lautner, Mary E. Lautner, Joseph H. Rogers
1984: Alice A. Drulard, Blake Forslund
1983: Michael Dennos, Barbara Dennos, V. Adm. Paul E. Trimble (Ret.)
1981: Lester M. Biederman, Warren W. Cline, M.D.
1980: Lt. Gov. Connie Binsfeld
1979: Doris Nerbonne, Everett R. Hames
1978: John L. Horton
1977: Julius C. Sleder
1976: Ferris N. Crawford
1974: James P. DeLapa, Andrew L. Olson
1973: Harry L. Weitz, M.D., Sen. Robert P. Griffin
1972: Dorothy C. Hall, Preston N. Tanis
1971: James E. Clune, Arthur G. Whitelock
1970: Harry T. Running, Mrs. Mark (Helen) Osterlin
1969: Corrine J. Naar
1968: Julius H. Beers
1967: Eugene B. Power
1966: Wilbur C. Munnecke
1965: George I. Altenburg, Gov. William G. Milliken, Leslie Tremaine, Bernice Tremaine
1964: Arnell G. Engstrom, Gerald Oleson, Frances Oleson, Ferris J. Rennie, Harold Wise, Imogene Wise, Ellis A. Wunsch, Ph.D.