NMC Fellows
The Fellow is Northwestern Michigan College's highest honor, awarded annually since 1964. Fellows may be nominated because they have demonstrated influential networking on behalf of the College, have demonstrated a pattern of outstanding financial or personal time contributions to NMC, or as a retiree of the College continue to contribute back to their academic or professional fields as volunteers, mentors or advisors. Exceptional contributions in one or more of these areas may justify nomination. No staff, faculty, or trustee shall be named a Fellow while still employed or in office.
2016 recipient: Chuck Judson
Attorney and community servant Charles B. "Chuck" Judson has been named the 2016 recipient of the NMC Fellow award, the highest honor bestowed by the NMC Board of Trustees. 
As a member and emeritus chair of the NMC Foundation Board, Judson has been a volunteer and advocate for NMC for two decades. He joined the Foundation Board in 1996 and served as chair in 2001. During his tenure Judson helped to establish the Great Lakes campus, home to signature programs including the  Great Lakes Maritime Academy, Great Lakes Culinary Institute, and the Great Lakes Water Studies Institute.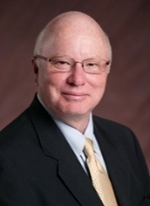 His philanthropy has even longer longevity. Since 1986, he has given to programs ranging from student scholarships to the Dennos Museum Center, and served as a volunteer and champion for NMC's Annual Fund Campaign.
NMC is just one of the many Traverse City organizations to benefit from Judson's time and energy. From serving pancakes at the National Cherry Festival to serving on the Traverse City Area Chamber of Commerce Foundation, Judson is known for his civic-minded heart and soul. Most recently the length and breadth of his community service culminated in his selection as the 2015 recipient of the Traverse City Area Chamber's Distinguished Service Award. The DSA is among the oldest community service awards, dating to 1929.
"Chuck has served as a mentor or advisor to many," said Rebecca Teahen, executive director of the NMC Foundation. "One of the primary reasons he is so often relied upon in this role is his clarity of purpose, thoughtful approach, and strong moral character."
In his professional life as an attorney and shareholder at Smith Haughey Rice & Roegge, Judson serves as an attorney of counsel to NMC.
Please submit your nominations for the 2018 Fellow to the NMC President's Office by Friday, December 1, using the form above either by hard copy or email to nmcpresident@nmc.edu.
Past NMC Fellows
2016: Chuck Judson
2015: Bruce Byl
2014: Richard and Diana Milock
2013: Dr. Don Good, Walter J. Hooper
2012: Hettie Molvang
2011: Terry S. Malone
2010: James MacInnes, Elaine C. Wood
2009: Jean Howard, Ted Kidd, Phyllis Kidd, D. Jerome Slack, Margery Slack
2008: Charles E. Benson, Barbara S. Benson, Louise Hagerty, Wayne H. Lobdell, Terry Lobdell
2007: Donald Oleson, Sr., Gerald Oleson, Jr.
2006: Walter E. Beardslee, Elaine L. Beardslee
2005: William G. Janis, Jacqueline E. Ribel, Mark L. Ribel
2004: Rotary Charities of Traverse City
2003: Christian P. Kamm, Shirley S. Okerstrom
2002: Marvin Rorick, Luella Rorick
2001: George C. Comden, Bart T. Stupak, Norman Veliquette, Marjory Veliquette
2000: Nick Rajkovich, Frances Rajkovich
1999: Robert T. Hughes, Robert Rudd, Grace Rudd, Capt. George J. Ryan
1998: Thomas C. Jones, Edward C. Walker
1997: James J. Beckett, Al Shumsky, Dudley Smith, Barbara Smith III
1996: David Lee Gray, Paul T. Johnson, Frances B. Johnson, Donald W. Nugent, Gail M. Nugent
1995: Dr. Charles D. Kesner, Richard W. Olson, Dr. C. Russell Wentworth
1994: Dr. Charles Kelly, Dolores Kelly, Barbara I.C. MacFarlane, Jane E. Norton, Frank E. Noverr
1993: Walter Holland
1992: Susie (Kildee) Janis, Paul Welch
1991: Sen. George A. McManus, Jr.
1990: Helen W. Milliken, JoAnne M. Zimmerman
1989: Gordon Lightfoot, Arthur M. Schmuckal, Mary E. Schmuckal, Adm. Willard J. Smith, U.S.C.G.
1988: Robert L. Goff, Jack B. Stegenga
1987: Marie G. McCarthy, Mrs. William E. Votruba
1986: Bernard C. Rink
1985: Frank W. Tezak, Ralph J. Lautner, Mary E. Lautner, Joseph H. Rogers
1984: Alice A. Drulard, Blake Forslund
1983: Michael Dennos, Barbara Dennos, V. Adm. Paul E. Trimble (Ret.)
1981: Lester M. Biederman, Warren W. Cline, M.D.
1980: Lt. Gov. Connie Binsfeld
1979: Doris Nerbonne, Everett R. Hames
1978: John L. Horton
1977: Julius C. Sleder
1976: Ferris N. Crawford
1974: James P. DeLapa, Andrew L. Olson
1973: Harry L. Weitz, M.D., Sen. Robert P. Griffin
1972: Dorothy C. Hall, Preston N. Tanis
1971: James E. Clune, Arthur G. Whitelock
1970: Harry T. Running, Mrs. Mark (Helen) Osterlin
1969: Corrine J. Naar
1968: Julius H. Beers
1967: Eugene B. Power
1966: Wilbur C. Munnecke
1965: George I. Altenburg, Gov. William G. Milliken, Leslie Tremaine, Bernice Tremaine
1964: Arnell G. Engstrom, Gerald Oleson, Frances Oleson, Ferris J. Rennie, Harold Wise, Imogene Wise, Ellis A. Wunsch, Ph.D.