NMC student named 2022 Guistwhite Scholar by PTK
TRAVERSE CITY — NMC student Amber Marsh is one of 15 Phi Theta Kappa members selected as a 2022 Guistwhite Scholar and will receive a $5,000 scholarship for her baccalaureate studies.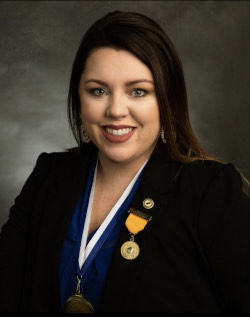 Download a high-resolution photo of Amber MarshWinners were chosen from among 2,700 applicants nationwide. Their selection was based on academic excellence, leadership accomplishments, and engagement in Phi Theta Kappa programs. They will also receive a commemorative medallion.
The Guistwhite is the second-highest scholarship offered by Phi Theta Kappa. It is named in honor of the late Margaret and Dr. Jack Guistwhite, who established the first transfer scholarship designated exclusively for Phi Theta Kappa members to Florida Atlantic University in 1975.
Marsh, of Kalkaska, is studying business administration. She has been president of NMC's PTK chapter for two years and led it to its best performance ever in the organization's Most Distinguished Chapter competition. She was NMC's Student Government Association president in 2021-22 and active in other student groups as well, including helping to launch a mentoring program between NMC students and Blair Elementary School fifth graders. In 2021-22 she represented the student body on the steering committee that led the creation of NMC Next, the college's strategic plan through 2025.
Phi Theta Kappa is the premier honor society recognizing the academic achievement of students at associate degree-granting colleges and helping them to grow as scholars and leaders. The Society has nearly 1,300 chapters in 11 countries, with approximately 240,000 active members in the nation's colleges. NMC's chapter is Alpha Rho Pi. Learn more at nmc.edu/ptk.
Release date: May 25,2022
For more information:
Kari Kahler, Associate Dean
Department of Learning Services
Alpha Rho Pi Chapter Advisor
Phi Theta Kappa Honor Society
231-995-1228
kkahler@nmc.edu
NON-DISCRIMINATION POLICY NOTICE
Northwestern Michigan College is committed to a policy of equal opportunity for all persons and does not unlawfully discriminate on the basis of race, color, national origin, religion, disability, genetic information, height, weight, marital status or veteran status in employment, educational programs and activities, and admissions.
nmc.edu/non-discrimination