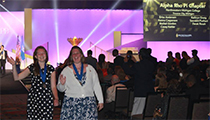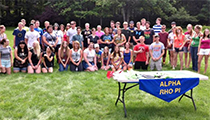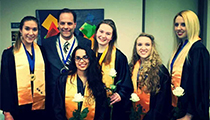 Phi Theta Kappa
Current Virtual Meeting times
During the shutdown of the college due to COVID-19, PTK is still meeting! We are gathering on Mondays from 11:30 a.m.–1 p.m. via Zoom.
Meeting Times
Meetings are the 1st and 3rd Fridays of each month at 1 p.m. in Osterlin 201.
PTK Officer Meetings are every Monday at 12:20 p.m.
Check the Chapter Facebook Page for updates and additional events.
All members looking to get more involved are welcome!
Mission
Our mission is twofold:
Recognize and encourage the academic achievement of our students.
Provide opportunities for individual growth and development through participation in honors, leadership, service and fellowship programming.
Requirements of Membership
Students interested in becoming members will need to meet the requirements of having an overall 3.5 GPA, at least 12 college level credits, and be currently enrolled in NMC courses.
Endeavors
The Alpha Rho Pi Chapter prides itself on being active not only on campus but throughout the community. Via tremendous effort and enthusiasm the chapter volunteers within the community including National Cherry Festival and Cass Road Cleanup. Alpha Rho Pi also concentrates much of their efforts towards student and campus centered projects that change yearly. From their involvement, members and officers gain life experiences and skills, opportunities are opened, and long-lasting friendships are forged.
Interested in Phi Theta Kappa?
Email questions to nmcptk@gmail.com or stop by the Advising Center (Osterlin 118) for more information.
Contact
Student Contact:
Faculty Advisor:
Accomplishments
International Awards
Distinguished Honors in Action Project 2017 and 2012
Distinguished Chapter 2017 and 2012
Regional Awards
Most Distinguished Chapter 2017, 2012, 2011, 2007–2009, and 2002–2005 and 2nd Runner Up in 2014
Distinguished Officer Team 2011, 2012, 2013 and 2014
College Project Hallmark Winner 2011
College Project First Runner Up 2017
College Project Third Runner Up 2012
Honors in Action Hallmark Winner 2017 and 2010
Honors in Action First Runner Up 2011
Honors in Action Third Runner Up 2014
Fellowship Hallmark Award 2003, 2004, 2006 and 2009
Scholarship Hallmark Award 2002, 2003, 2004, 2005, 2007 and 2009
Leadership Hallmark Award 2002, 2003, 2004, 2005, 2007 and 2008
The Alpha Rho Pi Chapter has also hosted various conferences throughout the years including:
Honors Institute 2008
Leadership 1992, 1999, 2005, 2007, 2011 and 2012
Regional Conference 2004, 2014
Mini Honors 2008
Chapter Milestones were earned in 1999 and 2002.
Member Accomplishments