NASO pow wow honors graduates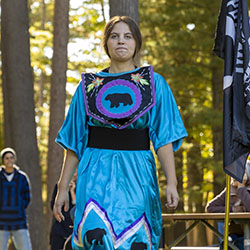 Saturday's pow wow will be held south of the Osterlin
Building, where the 2022 Indigenous Peoples Day
was held. Download high-resolution image here. TRAVERSE CITY — NMC's Native American Student Organization will hold its 2023 pow wow honoring Native American graduates from 1–5 p.m. Saturday, June 17 on main campus. Grand Entry is at 2:30 p.m.
The pow wow will be held under the pines south of the Osterlin Building on main campus, 1701 E. Front St., Traverse City. Admission and parking are free. The event will include food and other vendors in addition to traditional dancing. All tribal vendors from any tribe are welcome. Honorariums are available to the first 50 dancers.
Release date: June 12, 2023
For more information:
Sally Smarsty
Student Success Coordinator
ssmarsty@nmc.edu
Non-deadline inquiries: (231) 995-3021
NON-DISCRIMINATION POLICY NOTICE
Northwestern Michigan College does not discriminate in admission, campus activities, education, employment, housing, public accommodation or public service on the basis of age, color, creed, disability, gender identity/expression, handicap, height, marital or familial status, national origin, political affiliation, race, religion, sex, sexual orientation, service in the military, veteran's status, weight, or any other legally protected status under federal, state, or local law. No act of retaliation shall occur to any person making a charge, filing a complaint, testifying or participating in any discrimination investigation or proceeding.
nmc.edu/non-discrimination