NMC announces 2023 Outstanding Alumni
TRAVERSE CITY — Northwestern Michigan College is proud to announce the 2023 recipients of the college's Outstanding Alumni award.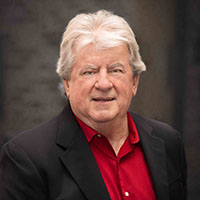 Jerry Dobek (Mathematics & General Arts & Sciences 1998, faculty/staff 1989-present): As a student and as a faculty member, Dobek has played a pivotal role in the operations of NMC's Rogers Observatory and his teaching at NMC extends into numerous school-based, community and national programs.
High-resolution image of
Jerry Dobek
He has written over 50 dark sky ordinances for Michigan cities, is a founding member of the International Dark Sky Association and regularly consults on exterior lighting projects. He's been recognized with a distinguished service award from NASA for their Ambassadors program, and has received NMC's Imogene Wise Faculty award both as an adjunct and full-time faculty member. As one nominator wrote, "Dr. Jerry Dobek's exemplary leadership…aligns with NMC's values, at the core of his volunteering and public outreach is to bring the community together. Jerry Dobek put 'community' into community college. His life's work revolves around student success. His heart for teaching extends into his life where everyday has become a classroom for learning opportunities."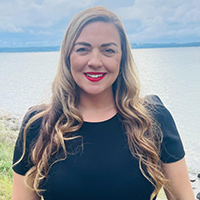 High-resolution image of
Tiffany McQueer
Tiffany Smith McQueer (General Studies 2012, Practical Nursing 2013): McQueer and her husband Jason McQueer have owned J&S Hamburg South in Traverse City since 2014. With the onset of COVID-19, Tiffany McQueer saw a need to support families beyond the pick-up meals provided to students through schools during the week.
What began as one cooler outside their restaurant stocked with a handful of meals has turned into a full-fledged nonprofit organization, with three locations providing food, as well as drives for holiday gifts, winter wear, and back-to-school support. Project Feed the Kids has distributed over 225,000 meals over the past three years.
One nominator explained, "Tiffany is the best example of a local person who saw an urgent need…she mobilized her family, using her own time and business as a base of operation to Feed the Kids and provide many with a normal Christmas and other celebrations. Why? Because she's been hungry before--and her empathy for others in need is a perfect reason for nominating her as an NMC Outstanding Alumni."
Since 1988, Northwestern Michigan College's Outstanding Alumni award has recognized graduates and past students for professional achievement and/or exemplary leadership in the local or global community. Nominees for this award should have demonstrated accomplishments that also reflect the NMC values of dedication to life-long learning, innovation and integrity, and respect for and collaboration with others. Recognition is not solely contingent on having received a degree or certificate from NMC, but on the achievements of the nominee and positive perspective as to the role that NMC played in their lives. Visit nmc.edu/alumni for more information and a nomination form.
Release date: JUNE 13, 2023
For more information:
Carly McCall
Director of Alumni Engagement
alumni@nmc.edu
(231) 995-1834
NON-DISCRIMINATION POLICY NOTICE
Northwestern Michigan College does not discriminate in admission, campus activities, education, employment, housing, public accommodation or public service on the basis of age, color, creed, disability, gender identity/expression, handicap, height, marital or familial status, national origin, political affiliation, race, religion, sex, sexual orientation, service in the military, veteran's status, weight, or any other legally protected status under federal, state, or local law. No act of retaliation shall occur to any person making a charge, filing a complaint, testifying or participating in any discrimination investigation or proceeding.
nmc.edu/non-discrimination