Imagine going to work aboard a research vessel, operating underwater cameras, ROVs, remote sensing equipment, and more. Sound good? Then consider Engineering Marine Technology, a fast-track option to a good-paying job.
NMC is now offering a new cohort program in marine technology. In a cohort, students are grouped into the same program and take the same classes. Call (231) 995-1300 for more information.
What you'll find at NMC
Transfer courses, two-year associate's degrees, four-year bachelor's degrees in maritime technology, and professional certificates
Access to other bachelor's degrees and advanced degrees through NMC's University Center »
Small classes, personal attention
Reasonable tuition
Excellent academic reputation
Dedicated faculty & staff
Engineering Technology
What is Engineering Technology?
Engineering technology education focuses primarily on the applied aspects of science and engineering aimed at preparing graduates for practice in that portion of the technological spectrum closest to product improvement, manufacturing, robotics, unmanned systems, and engineering operational functions.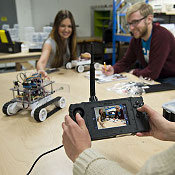 The NMC Engineering Technology degree offers students a broad-based curriculum across all areas of technical education, preparing the graduates for emerging job markets and highly technical fields. The program is designed to allow students to focus on areas of interest or specialize in one of seven technical specializations: Computers, Electronics, Photonics, Marine, Robotics & Automation, Unmanned Aerial Systems, and Unmanned Ground Vehicles.
Articulation Agreement
Model Schedules