Engineering Technology Degrees and Certificates
What is Engineering Technology?
Engineering technology education focuses primarily on the applied aspects of science and engineering aimed at preparing graduates for practice in that portion of the technological spectrum closest to product improvement, manufacturing, robotics, unmanned systems, and engineering operational functions.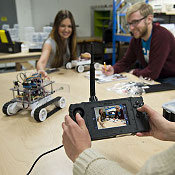 The NMC Engineering Technology degree offers students a broad-based curriculum across all areas of technical education, preparing the graduates for emerging job markets and highly technical fields. The program is designed to allow students to focus on areas of interest or specialize in one of seven technical specializations: Biomedical, Computers, Electronics, Marine Technology, Robotics & Automation, and Unmanned Aerial Systems.
Articulation Agreements
Course Sequence guides
Program Requirements
Areas Of Emphasis
Marine vehicles and instrumentation
Marine data processing and management
Marine acoustics and sonar platforms
Project planning and management
Careers
Marine mapping and hydrography
Marine construction
Marine exploration
Marine science and research
Environmental monitoring
Questions?
Contact tech@nmc.edu or (231) 995-1300.
Are you unsure the difference between Engineering Technology and Engineering Transfer? View a comparison here.