MY NMC Story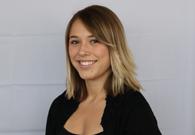 "At NMC, I really value all of the people and resources that are available to aid students.  If you have any issue, no matter the topic, there is someone to help."
GABRIELLE CORWIN
Personal Counseling
Whether it's stress management or navigating a difficult personal situation, Personal Counseling staff are here to help. Licensed professional counselors provide short-term counseling as well as referral services to assist students with resolution of issues and crises that may impact academic performance or personal well-being, including:
Family and social relationship concerns
Depression
Stress management
Anger management
Loss of a significant person
Substance abuse
Crisis intervention
LINKS TO GUIDED MEDITATIONS
Letting Stressors Go: Leaf Meditations to let go of stressful thoughts and situations. Includes controlled breathing instructions.
13-minute leaf meditation:
20-minute leaf meditation:
These YouTube videos provide more guided meditations. (The videos are not provided by NMC.)
"Red Flag" Incident Report Form »
 If you have trouble adding a new incident or have further questions, please contact either Lisa Thomas in Student Life at (231) 995-1118 or Marcus Bennett in Residence Life/Judicial Affairs at (231) 995-1401.