Dean's List
Published at the end of each term, the Dean's List recognizes the outstanding academic achievement of full-time and part-time students. These students have achieved a grade point average of 3.5 or above out of a possible 4.0 while taking twelve or more credits (full-time) or between six and eleven credits (part-time). Follow the links below to view the Dean's Lists for a given term.
Summer 2017
Spring 2017
Fall 2016
Summer 2016
Spring 2016
Fall 2015
Summer 2015
Spring 2015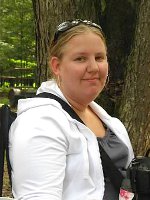 How do you transform a two-time college dropout into a Dean's List student?
Give her a bridge and a foundation. Walk her over and shore it up.
In 1998 Lindsey Grice enrolled at NMC, fresh out of Traverse City Central High School and mother to a newborn daughter. It didn't go well.
"I just failed miserably. It wasn't something I knew about. I had a full course load and a little baby and it was too much," Grice said.
She tried again a decade later. By 2008 she was a mother to three, including a son with intensive mental health needs. Grice had to take six credits and earn a 2.0 in order to keep her financial aid. Her attendance was spotty due to her son's care giving demands, and she did well in one class but not the other. She lost her financial aid and dropped out a second time. Read more »