Chris M. Bott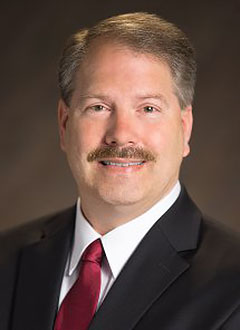 Chris M. Bott was appointed in May of 2015 to fill a Board of Trustee term vacancy, elected to a six-year term in 2016, and re-elected in 2022. Bott served as Board Chair from January 2019 to January 2022. He is Chair of the NMC Board Policy Committee.
At the state level, Bott is a member of the Michigan Community College Association (MCCA) Board of Directors and serves as Chair of the MCCA Executive Committee.
Chris Bott, CPA, MST, is a partner at Hofstra, Bott & Kraft , P.C., Certified Public Accountants specializing in income tax planning and consulting services for individuals and closely held businesses.
Bott is a 1983 graduate of Northwestern Michigan College earning an A.A.S. Degree in Accountancy. He holds a Bachelor of Science Degree – Accounting (highest distinction) from Ferris State University, and a Master of Science Degree – Taxation, from Grand Valley State University.
He has served on the NMC Business Administration/Accounting Advisory Committee 2004–2015, was a founding member of the Munson Manor Hospitality House, a member of the Munson Regional Healthcare Foundation and a past member of the Traverse City Area Chamber of Commerce – Athena Award Sub Committee and the Member Service Sub Committee.
In addition to six siblings who also earned their associate degrees from NMC, Bott's three children also attended NMC earning their associate degrees.