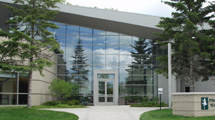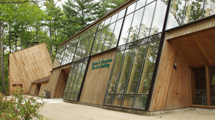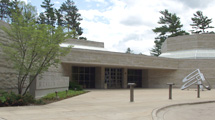 Campuses & Facilities
NMC has several campuses in and near Traverse City, Michigan:
​Main Campus (map)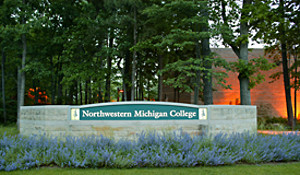 Main entrance: Front Street (U.S. 31) at College Drive, Traverse City, Michigan
Mailing address: 1701 East Front Street, Traverse City, MI 49686
1880 College Drive - 1884 College Drive
NMC has three apartment buildings providing one and two bedroom apartments for married couples and single parents.
1410 College Drive
This major museum facility, named for donors Michael and Barbara Dennos, includes three galleries for changing exhibitions, an interactive gallery for children and a gallery for NMC's collection of Inuit art. It also features a classroom-size theater and sculpture court gallery. The 367-seat William and Helen Milliken Auditorium has an open stage and offers performance space for NMC music, drama and dance departments as well as community and visiting groups.
1770 College Drive
This residence hall has rooms for about 200 students and offices for the housing staff. It was remodeled in 2002.
​Founders Hall (FH)
(#8 on map)
1740 College Drive
NMC's Audio Technology program and two conference rooms are located here.
​Health & Science Building (HS)
(#7 on map)
1705 East Front Street
This 54,700-square-foot building features state-of-the-art teaching laboratories for science courses such as chemistry, biology, physics, and geology; and for health courses such as dental and nursing. There are also six general-purpose classrooms and many "interactive spaces" for students in study rooms and hallways, and the NMC Bookstore. The spacious atrium lobby in the building's north end hosts occasional campus events, and the building is connected to the Biederman Building at its southwest corner. It was built in 2001.
​James Beckett Building (JB)
(#13 on map)
1890 College Drive
The building was named for James J. Beckett, Chair Emeritus of the NMC Board of Trustees and longtime volunteer on behalf of the College. The building has six general-purpose classrooms, two multimedia classrooms, one computer lab and one distance learning classroom. It also has faculty offices, a conference room and several study areas, along with academic and central scheduling offices.
​Les Biederman Building (LB)
(#6 on map)
1703 East Front Street
The building contains general-purpose classrooms, student interaction areas, one computer lab, Student Health Services, the office of Public Relations & Marketing, and faculty offices for Health Occupations, Science and Math. It is named for NMC founder Les Biederman, chair of the first Board of Trustees.
​Maintenance Building / Facilities Building
(#17 on map)
1861 College Drive
The building houses facilities and maintenance operations, Campus Safety, and NMC Shipping and Receiving.
1770 College Drive
NMC's newest residence hall opened in August, 2017 and has room for about 135 students. It features quad style suites with shared kitchen and living space, and a fitness center. The residence hall was also designed with a flexible format so sections can be used for workforce development housing in off-peak times.
​Okerstrom Fine Arts Building (F)
(#12 on map)
1870 College Drive
The building has studios, classrooms and a Macintosh computer lab for art and music, as well as an 84-seat recital hall. In 2000, the building was named in honor of Shirley S. Okerstrom, former member and chair of the NMC Board of Trustees and a supporter of the arts.
​Oleson Center for Continuing Education (OC)
(#15 on map)
1881 College Drive
This conference center, remodeled in 2006, features three meeting rooms which can be used separately or as one large room, a teaching kitchen, a multi-purpose room and a childcare facility. The Oleson Center was named in honor of the Gerald and Frances Oleson family which has provided long-term support of the college through the annual Barbecue and other donations.
​Osterlin Building (O)
(#3 on map)
1550 College Drive
The Osterlin Building houses the Career and Employment Services, the Student Life and Personal Counseling offices, the Student Success Center, the Tutoring Center, a Veterans Lounge, classrooms and computers.
1580 College Drive
This small brick building houses the power plant for the college.
​Rajkovich Physical Education Center (P)
(#16 on map)
1860 College Drive
The building has a gymnasium, dance studio and classrooms. In 1969, it was named after Nick Rajkovich, a former faculty member who developed the NMC physical education program. In 2000, Frances Rajkovich's name was added to the building in recognition of her generous support of NMC.
​Scholars Hall (SH)
(#2 on map)
1450 College Drive
This building contains general purpose classrooms, the photography laboratory, International Services, the Writing & Reading Center,, the White Pine Press student newspaper office, faculty offices for Communications and Social Sciences and many student study areas.
​Tanis Building (T)
(#5 on map)
1701 East Front Street
The building was named for Preston N. Tanis, the first president of NMC who directed the college from 1951–1970 and wrote its first history. In this building are the offices of the NMC President, Educational Services, Enrollment Services (including Admissions, Financial Aid and Records & Registration), Military & Veteran Services, Information Technology Services, Safety & Security satellite office and the Welcome Center.
​Timothy J. Nelson Innovation Center and Library (TJNIC)
(#9 on map)
1720 College Drive
In 2018, NMC embarked on a multi-million-dollar project to turn West Hall into a multi-story 21st Century Innovation Center, with transformative learning environments, a new library and multiple academic and simulation spaces. The building also houses Campus Safety & Security, NMC Dining Services including the Hawk Owl Cafe and Northwest Grind, Educational Media Technologies, the Technology Help Desk and the WNMC 90.7 FM college radio station. It opened in the summer of 2020 for the Fall 2020 semester. In 2021, the building was formally renamed as the Timothy J. Nelson Innovation Center to honor President Nelson's decades of service to NMC students, the college and the community and his championship of the project.
​Wise Memorial Clock Tower
(#11 on map)
Located south of East Hall on the main campus, the clock tower was named for benefactors Harold and Imogene Wise and was erected with private donations from NMC founder Les Biederman, the Wise family, and NMC faculty and staff.
​Aero Park Campus (map)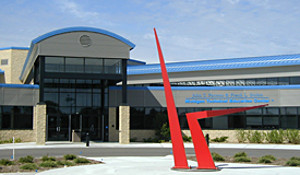 2600 Aero Park Drive, Airport Industrial Park, Traverse City
​Aero Park Laboratories (AL)
2525 Aero Park Drive
This facility houses NMC's Construction Technology and Renewable Energy programs.
​Automotive Service Technology Building (AT)
2510 Aero Park Drive
This facility contains the Automotive Technology Program.
​Aviation Hangars
2550 Aero Park Drive
This building contains the hangar and flight simulator for the NMC Aviation Program. Aviation Program offices are located in the Parsons-Stulen building (formerly "M-TEC").
​Parsons-Stulen Building (formerly "M-TEC") (PS)
2600 Aero Park Drive
This facility provides and supports training in the areas of manufacturing, construction, aviation and information technology. It also is home to NMC's Aero Park Professional Testing Center and Energy Demonstration Center. Named after John T. Parsons and Frank L. Stulen, local innovators who created "numerical control," the Parsons-Stulen Building contains a flexible learning environment, including a "high bay" area for construction and manufacturing, plus computer labs, an interactive television classroom, conference room, and faculty and staff offices.
​Great Lakes Campus (GL) (map)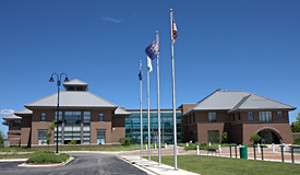 715 E. Front St. at Barlow Avenue, Traverse City
This facility on the West Bay waterfront houses the Great Lakes Maritime Academy, Great Lakes Culinary Institute and Lobdell's: A Teaching Restaurant, the Great Lakes Water Studies Institute and the Hagerty Conference Center. The two buildings are connected by a glass exhibition hall to preserve views of the bay.
The Hagerty Center is a full-service banquet and conference facility located at the Great Lakes Campus, providing state-of-the-art technology and a professional staff. For more information, contact a Hagerty Center representative at (231) 995-3100.
​University Center Campus (UC) (map)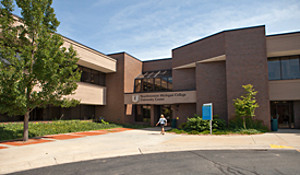 2200 Dendrinos Drive, off Cass Road between 14th Street and South Airport Road, Traverse City
This 30-acre parcel was purchased in 1989 and was formerly owned by the Sara Lee Corporation.
Schmuckal Building
This building is named after generous NMC benefactors Arthur M. and Mary E. Schmuckal. It houses the NMC University Center, which offers more than 40 bachelors completion and advanced degree programs in partnership with seven Michigan universities. Also located at the University Center Campus is NMC Extended Educational Services, which provides community and continuing education offerings, administrative services, human resources, offices for Institutional Advancement and the NMC Foundation, and the business office.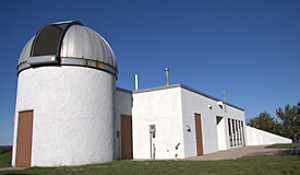 1753 Birmley Road, between Garfield and Keystone roads, south of Traverse City
This facility is named after former science/math division director and instructor Joseph H. Rogers, who spearheaded construction. The structure contains a classroom area, dome, telescope and darkroom. It was constructed to house astronomy classes and provide an educational program for community groups. It opens regularly to the public for free public viewing.