About the Area
A natural choice
Northwestern Michigan College is located in the beautiful resort town of Traverse City, Michigan in the United States' Midwest region. Our campus is just minutes away from the beautiful Lake Michigan shoreline and is part of a community that values and encourages diverse business, cultural and educational opportunities. Your education at Northwestern Michigan College is sure to be inspiring, challenging and dynamic. NMC is your first step towards academic and career success.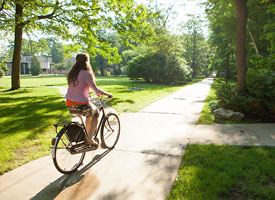 Northern Michigan is known for its spectacular natural environment — from towering pine trees and crystal blue freshwater lakes, to sandy beaches and miles of nature trails — we enjoy four diverse seasons of outdoor activities and breathtaking scenery. NMC's main campus is located in the heart of this natural beauty. Our campus is surrounded by a friendly residential neighborhood and we are proud to say that our community is among the safest in the nation. If you're looking for a weekend in the big city, we're just a few hours' drive from Chicago, Detroit and other popular urban destinations.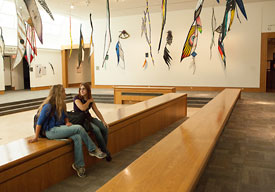 Students at NMC can take advantage of the community's local art galleries, the Dennos Museum Center, vibrant downtown shopping, year-around festivals, about 40 wineries, concerts and events. The possibilities are endless!
We take pride in our state-of-the-art campus that features updated classroom facilities, cutting-edge technology and great views from every window. As a student you will enjoy many acres of natural beauty — a tranquil setting where more than 5,200 students build their futures each year.
Quick facts
Traverse City is located 222km (139 miles) from Grand Rapids, MI (GRR), about 400km (250 miles) from Detroit (DTW), and about 507km (315 miles) from Chicago.
With abundant fruit farmland and orchards, Traverse City is known as the "Cherry Capital" of America.
Ours is a resort area where people enjoy water sports, golf, horseback riding, cycling, running, swimming, hiking and snow skiing.
Traverse City has four distinct seasons with warm, humid summers (average 26°C/79°F) and cold, snowy winters (average -4°C/24°F). Snowfall between November and April averages around 3 meters (120 inches) per year and the ground is typically covered in snow from December through mid-April.
Traverse City's year-round population is only a little more than 15,000 people, but the five-county area around Grand Traverse Bay has over 171,000 residents, and, in the summer season, visitors and seasonal residents will almost double that number.
Local activities
When you need a break from your studies, there's plenty to do year-round in northern Michigan. Here's just a sampling of the many activities available, as well as a list of links to additional community resources.