Five decades in the classroom, and counting
Steve Drake at NMC's 2018 commencement ceremony
(download a high-resolution version here)TRAVERSE CITY — Northwestern Michigan College is celebrating its first instructor to achieve the milestone of 50 years in the classroom, mathematics instructor Steve Drake.
In 1971 Drake came to Traverse City with seven years of teaching experience, as the recipient of three National Science Foundation grants, holder of an FBI security clearance, his wife Carolyn and a newborn.
While he could have earned a higher salary elsewhere, NMC's teaching culture was far and away the best that Drake observed on his interviews. That was why he and Carolyn chose NMC out of about a half-dozen opportunities.
"I could work here and enjoy myself," as a member of the professional, engaged faculty, recalled Drake, who turns 79 this month.
Half a century later, with a few more NSF grants under his belt and now a grandfather, he knows he made the right choice.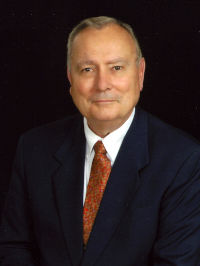 Steve Drake (download a high-resolution version here)"I really, really have enjoyed working at NMC," said Drake, a two-time winner of NMC's Imogene Wise Faculty Excellence award, for which he was nominated by students. "If you don't enjoy what you do, you're just going to try to retire at the first opportunity."
NMC President Nick Nissley said Drake is a paragon of an outstanding faculty that has a high level of longevity overall.
"Steve exemplifies loyalty, dedication and a deep sense of care for his students, the craft of teaching and Northwestern Michigan College," Nissley said. "We've been fortunate he's chosen to spend his long career at NMC."
Highlights of Drake's career include:
Working with universities, especially Michigan Technological University, to create transfer pathways that allowed NMC students to be successful
NMC's selection as a state technical education site (the Parsons-Stulen Technical Education Center) which increased workforce opportunities for students who don't transfer
Teaching at NMC University Center partner Ferris State University
Continuing his own education by studying at the federal government's Argonne National Laboratory and FermiLab, among other places.
Steve and Carolyn Drake's two children also attended NMC.
Retirement is still not in the cards. Drake said he's planning one year at a time, and will be back in the classroom for the fall 2021 semester.
Release date: JUNE 3, 2021
For more information:
Editors: Steve Drake is available for interviews. Contact NMC Public Relations to make arrangements.
Diana Fairbanks
Executive Director of Public Relations, Marketing and Communications
dfairbanks@nmc.edu
(231) 995-1019
NON-DISCRIMINATION POLICY NOTICE
Northwestern Michigan College is committed to a policy of equal opportunity for all persons and does not unlawfully discriminate on the basis of race, color, national origin, religion, disability, genetic information, height, weight, marital status or veteran status in employment, educational programs and activities, and admissions.
nmc.edu/non-discrimination