Faculty Excellence Awards
Imogene Wise Faculty Excellence Award
2015 RECIPIENT:
Dr. Jerry Dobek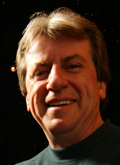 Dobek began at NMC in 1989 as an adjunct instructor, and in 2002 won the Adjunct Faculty Excellence Award. He is also an NMC alumnus. In their nominations students said:
"This professor has a 'leave no one behind' mentality which is evident from the beginning of each new semester. With the teacher's consistent mentorship, you will have no doubt that you will pass."
"This instructor has an amazing gift and ability to teach in a way that is fun."
"With his real-life way of looking at math from all angles, you see and learn that yes, we use math all the time."
Imogene Wise Faculty Excellence Award
About the award
Initiated by a contribution from longtime NMC benefactors Harold and Imogene Wise in 1970 and first awarded to a full-time faculty member in 1971. Chosen by a student selection committee, award criteria includes teaching excellence, rapport with students, innovation in the classroom and a sense of dedication.
Past recipients
2015: Dr. Jerry Dobek
2014: Lisa Blackford
2013: Sonja Olshove
2012: Kristy McDonald
2011: Dr. Blake Key
2010: Steve Drake
2009: Dr. Amjad Khan
2008: Connie Jason
2007: Dr. Keith Overbaugh
2006: Mark Nelson
2005: Johnathon Mauk
2004: Michael Jacobson
2003: Sean Ruane
2002: Mike Surgalski
2001: Sonja Olshove
2000: Doug Domine
1999: Mary Quinn
1998: James Press
1997: William Faulk
1996: Richard Cookman
1995: Adam Gahn
1994: Debra Pharo
1993: Martin Trapp

1992: James Coughlin
1991: John Tanner
1990: Allison Shumsky
1989: Walter Ross
1988: Jay Beery
1987: Eric Wildman
1986: Hettie Molvang
1985: Lyle Bradford
1984: Philip DeMarois
1983: Dick Minor
1982: Roy Terdal
1981: Robert Rudd
1980: Jim Spenceley
1979: Arlo Moss
1978: William Skinner
1977: Jerry Sullivan
1976: Ken Rose
1975: Walter Holland
1974: Larry Buys
1973: Kay Donnelly
1972: Jim Spenceley
1971: Bill Long