West Hall renamed the Timothy J. Nelson Innovation Center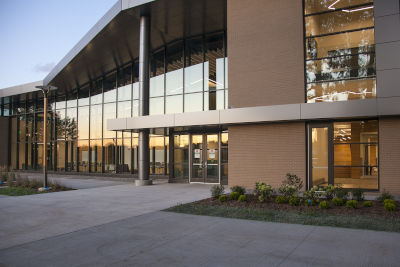 Entrance (download a high-resolution version here)TRAVERSE CITY — The West Hall Innovation Center on Northwestern Michigan College's main campus has been renamed the Timothy J. Nelson Innovation Center to honor President Nelson's decades of service to NMC students, the college and the community.
The NMC Board of Trustees voted unanimously to rename the building at its regular meeting on July 26. They credited President Nelson's drive, vision and commitment to innovation in making NMC a world class institution.
"The work Tim Nelson has done throughout his career to make NMC a point of pride in our community, and a leader around the world, will have a positive impact for generations to come," said NMC Board of Trustees Chair Chris Bott. "We want to honor his dedication to this college with a public recognition that will also have lasting impact."
The project combined state and NMC-funded investments for renovations and modernizations of the West Hall building to create a 54,000-square-foot, multi-story library and flexible 21st-century learning space with classrooms, conference rooms, student-centered workspaces and simulation labs. The building also houses NMC's Hawk Owl Café, the college's WNMC 90.7 FM radio station and other NMC departments.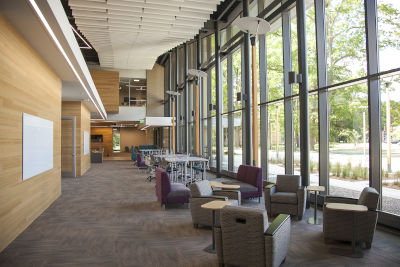 Atrium (download a high-resolution version here)NMC broke ground on the project in September 2018 and celebrated the building's opening with a livestreamed ribbon cutting ceremony in September 2020. The project recently won a Michigan American Institute of Architects (AIA) Honor Award for Design Excellence.
President Nelson, NMC's longest-serving president, retired from the college in 2019 after leading the institution for over 18 years. He helped champion the project, including working to win state legislative approval of $7.4 million in capital outlay dollars to cover about half of its $14.4 million cost. Other highlights of President Nelson's tenure include overseeing NMC's launch of Michigan's first community college baccalaureate degree, supporting the creation of NMC's Experiential Learning Institute and Great Lakes Water Studies Institute, and creating the Global Opportunities Scholarship Fund with his wife Nancy.
Release Date: July 27, 2021
For more information:
Diana Fairbanks
Associate Vice President of Public Relations, Marketing and Communications
dfairbanks@nmc.edu
(231) 995-1019
NON-DISCRIMINATION POLICY NOTICE
Northwestern Michigan College is committed to a policy of equal opportunity for all persons and does not unlawfully discriminate on the basis of race, color, national origin, religion, disability, genetic information, height, weight, marital status or veteran status in employment, educational programs and activities, and admissions.
nmc.edu/non-discrimination