Surveying industry invests in NMC to meet workforce needs
TRAVERSE CITY — As the Michigan Society of Professional Surveyors convenes for its annual conference at the Grand Traverse Resort next week, industry investment in NMC has led to a dedicated surveying technology program recruiter joining the college's staff.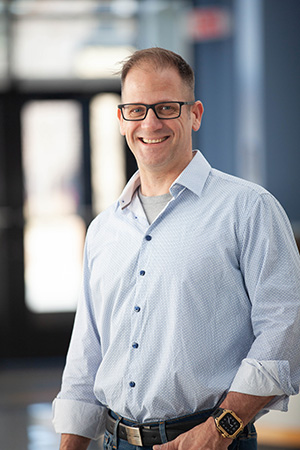 Download a high-resolution photo of Ryan Deering hereRyan Deering (right) stepped into the recruiter role Feb. 6. The new position is funded by a surveying industry donor.
"There is a real need and a shortage of survey technicians. Industry has recognized that need," said Ed Bailey, director of NMC's Marine Center.
An aging workforce, lack of awareness of the career opportunities, and demand for surveying skills have created the shortage. Launching a Surveying Technology associate degree in 2019 was NMC's first response. Now, tackling that lack of awareness will be Deering's job. He's confident that he can attract students. NMC's program is unique in that it offers instruction for land, marine, and air applications.
"Everything is combined. It's woven together nicely," said Deering, who also teaches welding at NMC. "It's limitless, what you can do with a surveying degree."
"It's the integration part that really sets us apart. Nobody can touch our facilities," agreed surveying instructor Carl Shangraw.
Land surveying classes, underwater ROV classes and drone classes are all taught at the Parsons-Stulen Building on NMC's Aero Park campus. NMC also has a campus harbor and vessel on West Grand Traverse Bay, and access to an airfield in Yuba where students can gain real-world experience in the marine and air applications.
Industry leader Leica also supplies NMC close to $1 million in surveying equipment each year for use in the program.
"I like the change of environment every day, (and) the great equipment they give us," said student Gabe Parrish, 19, of Mesick. He plans to graduate next year.
Deering added that NMC's small classes mean that students get plenty of time with that top-notch equipment, which is important to employers.
"You really get a lot of hands-on with the equipment," he said. "Employers are really looking at that."
In addition to students like Parrish just beginning professional careers, NMC and Deering hope to enroll more students like Jim Schiffer, a professional engineer with the Grand Traverse County Road Commission. Engineers can earn a surveyor credential with 30 credit hours, or about two semesters. Schiffer jumped at the opportunity. He will complete his coursework this summer.
"If you love anything technical, and you love solving problems, and you love being outside, it's all there," he said.
The Commission currently has no surveyor on staff, said Schiffer. The credential will also complement his consulting business in general civil and structural engineering.
Shangraw said he's "optimistic" about Deering bringing in more students to the surveying program.
"I've seen him work with college kids. He's phenomenal," said Shangraw, who started at NMC three years ago after more than two decades of teaching at the university level. Besides the staff and facilities, NMC's student support is "second to none," he said.
"Every school says they're student-centered. (NMC) means it."
Release date: February 16, 2023
For more information:
Diana Fairbanks
Associate Vice President of Public Relations, Marketing and Communications
dfairbanks@nmc.edu
Media on deadline, call or text (231) 392-6082
Non-deadline inquiries: (231) 995-1020
NON-DISCRIMINATION POLICY NOTICE
Northwestern Michigan College is committed to a policy of equal opportunity for all persons and does not unlawfully discriminate on the basis of race, color, national origin, religion, disability, genetic information, height, weight, marital status or veteran status in employment, educational programs and activities, and admissions.
nmc.edu/non-discrimination