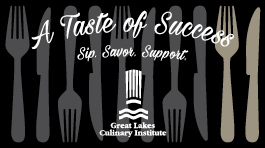 Thank you for joining us on April 29 for a to-go world cuisine tour.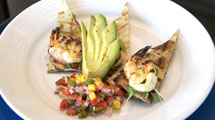 Appetizers, salads, soups, sandwiches and entrées to tempt your taste buds.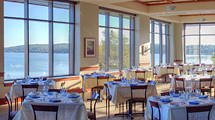 Four training kitchens and an adjacent conference center are among the features of NMC's culinary school.
Lobdell's: A Teaching Restaurant
Enjoy one of the region's finest bayside dining experiences by visiting Lobdell's, a 90-seat restaurant overlooking beautiful Grand Traverse Bay and named in honor of longtime NMC supporters Wayne and Terry Lobdell. Your reservation is appreciated.
Located at the Great Lakes Campus, Lobdell's serves as a working laboratory for the Great Lakes Culinary Institute's culinary and baking students. Lobdell's is open to the public for lunches, dinners, cocktail hours, special events and morning coffee and sweets in the fall, spring and summer semesters. Every semester offers different events that are advertised in our e-newsletter, so sign up for email announcements here. Many of these events require reservations so call for reservations at (231) 995-3120.
Learn more about Lobdell's and the Great Lakes Culinary Institute: