History
The Observatory was founded and constructed completely from public donations, the result of a tireless effort by  instructor Joseph H. Rogers to build a permanent home for what had been NMC's "portable" telescope. Forty-three businesses and 106 individuals contributed money, materials, land and labor to construct the observatory.
Since then, more than 100,000 community members have visited for the regular public viewing nights as well as for special celestial events like comets Hale-Bopp and Hyakutake in 1996. The observatory hosted its largest crowds in August 2003, when Mars made its closest approach to Earth in more than 50,000 years.
The perfect location
While searching for a location for the Observatory, topographic maps were used to find high elevations close to NMC's main campus. A desirable spot was found south of Traverse City – it provided an excellent unobstructed view of the entire sky. It was 6 miles (9.7km) from the main campus and about 250 feet (76m) above the elevation of the surrounding area. Two local property owners agreed to each donate 2.5 acres for the Observatory. NMC's Observatory had its site, close to the main campus of the college, but far enough south of the city's nighttime lighting.  
Joseph H. Rogers
Rogers, who remained committed to the Observatory and community, died April 25, 1997 after losing his fight with bone cancer. He was known as a "students first" instructor. Even after his retirement, he remained involved with the college. Jerry Dobek, NMC astronomy instructor, recalls a meeting held at the Observatory in 1993, with then-NMC President Timothy Quinn, Science and Math instructor Jack Berman and Rogers. Dobek, Rogers and Berman had arrived early to inspect the leaky roof at the Observatory. When President Quinn arrived, Rogers greeted him by saying, "You've been President at the college for nearly five years now, and it's your first visit to the Observatory. 'Bout damn time, ain't it." Rogers was never one to "mince words," and often told it like it was. He proceeded to remind President Quinn that this was a "college facility" and should be maintained as such. In 1994 the Observatory roof and damaged interior ceiling tiles were replaced.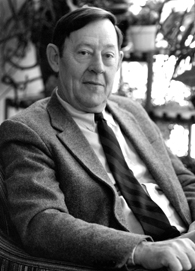 JOSEPH H. ROGERS
Observatory visionary & former NMC Science & Math Instructor/Division Director