Search Our Collections
We have more than 50,000 print books and more than 80,000 ebooks, and can interlibrary loan a book from anywhere in the world.
We have access to millions of articles in magazines, scholarly journals and newspapers.
The U.S. government is the world's largest publisher. NMC is a depository for some of that information and for the State of Michigan.
LibGuides provide access to the best resources available to NMC Library users organized by academic area, specific course or general topic.
My NMC Story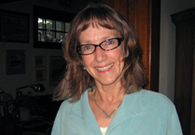 "Having my students engage in the information literacy instruction results in more thoughtful inquiry and academically solid papers."
TERRI REISIG