How To Prepare For The Dental Assisting Field In High School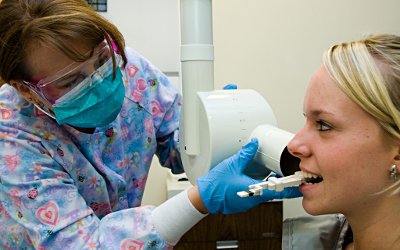 For dental assisting, a sound background in biology and English are important. Higher levels of science can only help, but are not required. Good speaking and writing skills will be instrumental in your success, not only in college, but also on the job. While basic math skills are a must, higher levels of math are not required for this field. Good computer skills are important as new technology enters the dental field. Assistants are now using computers in the dental treatment room for patient records and taking digital x-rays.
Following are traits that successful dental assistants possess:
Teamwork is a very big part of any dental practice. So, having the ability to work well in a team environment is a real plus.
Manipulation of small instruments and mixing of various dental materials is a big part of the Registered Dental Assistant's and Certified Dental Assistant's duties.
Having the ability to follow step-by-step procedures is also a prerequisite for success as a dental student.
Successful dental assistants are genuinely interested in other people.
Being dependable and responsible will help dental assistants excel in the field.
They like working with their patients to improve their dental health.
Detail-oriented individuals find dental assisting truly rewarding.
Program Requirements
Program Contact Information:
Alison Collins, Director of Dental Assistant Program
(231) 995-1250
Northwestern Michigan College
1701 E. Front Street
Traverse City, Ml 49686
What you'll find at NMC