Writing & Reading Center
NMC's Writing and Reading Center offers peer assistance with all types of writing at all stages of the writing process and with all forms of reading. You'll receive help with:
Invention
Drafting
Revision
Citation/Documentation
Grammar/Punctuation
Organization/Structure
Reading comprehension
Help is available for all types of writing and reading, including:
Articles
Textbooks
Class papers
Cover letters for jobs
Personal statements
Creative writing
Assistance is available by appointment. Same-day appointments are not always available, so give yourself a few days to plan for your appointment. Make your appointment in person, either by coming in to the Writing & Reading Center or by calling (231) 995-1189 during our regular hours.
A reader will sit down with you, ask you to fill out some simple paperwork and discuss whatever you'd like to work on in your piece. Sessions can last from 20 minutes to as long as you'd like to talk.
If you have any questions or comments, email, call or stop in. We're here to help you in whatever way we can.

Main Campus Hours
Scholars Hall, Room 221
Summer Semester
May 12–August 8
Monday–Thursday: 10 a.m.–2 p.m.
Their NMC Story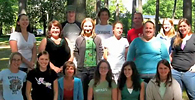 What really happens in NMC's Writing and Reading Center? Watch our video for a unique perspective from students and staff of the Writing and Reading Center.