Writing & Reading Center
NMC's Writing & Reading Center (WRC) offers peer assistance with all types of writing at all stages of the writing process. You'll receive help with:
Invention/Outlining
Drafting
Revision
Organization/Coherence
Source integration
Citation/Documentation
Grammar/Punctuation
Reading comprehension of sources used
Help is available for all types of writing, including:
Class papers
Cover letters for jobs
Personal statements
Creative writing
The WRC is open to serve NMC students for the Fall 2021 semester!
WRC sessions are typically 30 minutes, but they can last from 20 minutes to longer, as necessary. For instructions on what information students need to provide when requesting an online appointment via email, please refer to our Contact Us page.
After a year and half of remote delivery, WRC staff will be back in-person in our main Scholars Hall 221 location, during our weekday hours. (We will also have some staff available during our Sunday shift that will be located in the NMC Library.) In-person appointments will be held in these sites; Zoom/online appointments will continue to be offered. Once we reopen, drop in at SH 221 or contact us via phone or email with your questions (e.g., student requests to schedule an in-person or virtual/Zoom appointment or other general inquiries).
We're here to support students. If you have any questions, we look forward to your inquiry and will respond as soon as we can during our regular weekday business hours. (The phone is monitored Monday-Thursday, when we are open and staffed; email is also monitored these days, plus Friday mornings and during our Sunday hours as well.) Thank you in advance for your patience, as we adjust to reopening with both in-person and remote service. Mask up when you're indoors at NMC, and stay safe and healthy!
Fall 2021 Semester
WRC open Tuesday, September 7–Thursday, December 16
WRC hours (Eastern Std time zone) - Scholars Hall 221
Mon: 9 a.m.–5 p.m.
Tue: 10 a.m.–6 p.m.
Wed: 10 a.m.–6 p.m.
Thur: 9 a.m.–5 p.m.
Fri & Sat: Closed
Sun: 3–7 p.m. (in NMC Library)
---
Their NMC Story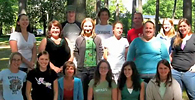 What really happens in NMC's Writing and Reading Center? Watch our video for a unique perspective from students and staff of the Writing and Reading Center.