Douglas S. Bishop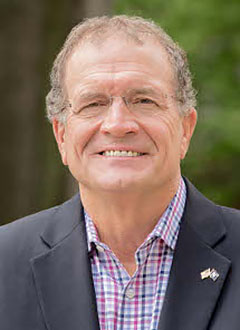 Doug Bishop was first appointed to the Board in July 2006 to fill a term vacancy. He then was elected to serve a six-year term and was re-elected in 2012 and 2018. His current term expires in 2024.
Bishop is a member of the NMC Foundation Board, the NMC Board of Trustees Presidential Performance & Compensation Committee, and Policy Committee.
Bishop has been a practicing attorney in Traverse City since 1977. He has served as president of the Grand Traverse Bay YMCA, chairman of both the Traverse City Chamber of Commerce and its education committee, president of the Trojan Athletic Boosters and a volunteer legal services attorney at the Third Level Crisis Center. He is also a graduate of the United States Naval Academy, served five years active duty as a surface warfare officer and is a retired captain in the U.S. Naval Reserve.