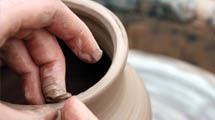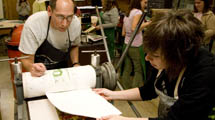 Art-specific Scholarships:
Daniel R. Olson Memorial Art Scholarship for outstanding pottery student, available to incoming or current NMC students
Paul Welch Art Department Scholarship, available to incoming or current NMC students
Patricia Prout Scholarship, available to photography students entering their second year at NMC
In the news: Paul Welch at ArtPrize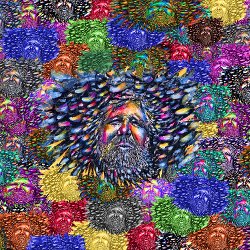 Retired art faculty member Paul Welch's piece "Face to Face" appeared at the 2013 ArtPrize in Grand Rapids Sept. 18–Oct. 6. The 24-by-24-foot banner printed in silk screen signifies the importance of portraiture throughout the history of art. Learn more »
Art / Fine Arts
A unique studio environment, hands-on classes and personal attention are what you'll experience as a student in our Art and Fine Arts programs. Choose from many classes, from drawing, pottery and painting to printmaking, art history, interactive animation and digital and traditional photography, among others. Enjoy our first-rate facilities for wet/dry photography ceramics and printmaking.
You'll have the opportunity to build a portfolio that will take you to the next level, and with help from artist instructors, you'll work toward a successful transfer or career.
NEWS & EVENTS