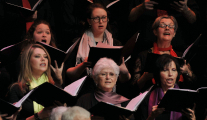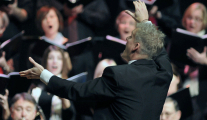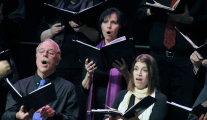 NMC Canticum Novum
NMC's Canticum Novum (kahn'-tee-koom noh'-voom), meaning "new song," is a new choral offering at NMC. Canticum Novum is an auditioned-only ensemble — please see below for audition information. Canticum Novum has several performance cycles throughout the year, with an emphasis on performances in the Fall and late Spring. Performances with the TSO and a Michigan Tour are scheduled for 2015-2016. Because of the challenging literature and the abbreviated rehearsal schedule, only singers with good reading skills should inquire. Registration fees for the 2015-2016 season are $150.
AUDITION INFORMATION
Auditions will be held on the NMC Campus and Monday, August 17 and Wednesday, August 19. Please call 231-995-1700 to set up an appointment for an audition.
Singers will be asked to sing a portion of Brahms' "Sehnsucht." Please click on the link below for a PDF of the music and for a recording of the accompaniment. (for rehearsal purposes) Piano accompaniment will be provided at the auditions. Singers will also be asked to sightread a short chorale.
AUDITION MUSIC
[There is an error in the music - page 5, second measure, Tenors should sing a D natural, not a D flat.]
AUDITION ACCOMPANIMENT
AUDITION FORM
Contact Jeffrey Cobb for more information.
2015-2016 Repertoire
To be announced!
Performance Schedule
To be announced!