Music
The Lesson of the Lark
This collaborative virtual performance of "The Lesson of the Lark" features the Northwestern Michigan College Choirs, under the direction of Jeffrey Cobb, and members of the NMC Music faculty. Students from NMC's Audio Tech program assisted in the audio mixing, and the video was created by students from NMC's Visual Communication program under the leadership of program director Caroline Schaefer-Hills.
---
NMC Virtual Choir
Northwestern Michigan College's inaugural virtual choir performing "How Can I Keep From Singing - Amazing Grace" arranged by Jeffrey Cobb. Featuring faculty, singers, and instrumentalists from the NMC Music Department including members of Grand Traverse Chorale, Chamber Singers, Canticum Novum, NMC Children's Choir, and Concert Band.
---
The NMC Music Department offers students a unique opportunity to learn in a creative and supportive environment. Students receive individualized instruction from our dynamic faculty in classes designed for students' success.
Students in the NMC Music Program take applied (private) lessons on their main instrument/voice, perform as a member of one of our Performance Ensembles, and take coursework that will prepare them for transfer to a four-year music institution.
Student may also enroll in our Audio Technology program — a program that will prepare students for a career in music production, computer music, and sound recording.
Auditions for placement are held during the summer or between semesters. Contact Jeffrey Cobb, Director of Music Programs, to arrange for a date and time.
Would you like more information about the NMC Music Department? Want to be included on our email list for concert and event updates? Please visit our contact page.
TESTIMONIALS FROM NMC GRADUATES
When I enrolled at NMC, I was a non-traditional student without a long-term educational plan. The NMC Music Department played a transformational role in my life and in the formation of my career path. Through challenging music history, theory, and aural skills classes, private study with outstanding educators, and unique performance opportunities as both a soloist and a member of the Chamber Singers, NMC's Music Department provided me with the intellectual and visceral fortitude that I needed in order to pursue my chosen vocation in music education. NMC's Music Department is one of the college's (and Traverse City's) best kept secrets... but let's hope it does not remain as such for much longer!
Erin Stier - Harbor Lights Middle School Choir Director
West Ottawa Public Schools
Northwestern Michigan College offers students of all ages the opportunity to experience a fun and well-rounded education that is second to none. In beautiful Traverse City, MI, students at NMC work with an exemplary faculty to learn and perfect a variety of valuable skills. As a former music student at NMC, I was extremely impressed by their state-of-the-art music technology capabilities and stellar music department. From opportunities performing on campus in the exquisite Milliken Auditorium, to collaborating with the Traverse Symphony Orchestra at Interlochen, NMC allows their students to experience a world-class, superior education. I am forever grateful to NMC!
Jay Schumacher - Choir Director
Three Rivers Community Schools
General Academic Programs

Tuition Rate

In-District ( Grand Traverse County residents) Tuition

$122.00 per contact hour

In-State ( other Michigan counties) Tuition

$261.00 per contact hour

Out-of-state Tuition

$340.00 per contact hour

International Tuition

$383.00 per contact hour

General Fee for all residencies:

Other fee of $33.00 per contact hour is a general fee covering a portion of costs for technology, orientation, placement, career testing, Student Government Association, and other student service activities.

$33.00 per contact hour
​Cost of Attendance
General Academic Programs Annual (Fall/Spring) Cost

| Costs | In-District | In-State | Out-of-State | International |
| --- | --- | --- | --- | --- |
| Tuition and Fees | $5,350 | $10,076 | $12,762 | $14,224 |
| Books, Course Materials, Supplies and Equipment | $835 | $835 | $835 | $835 |
| Living Expenses: On-Campus Housing and Food | $10,200 | $10,200 | $10,200 | $10,200 |
| Transportation | $1,000 | $1,900 | $3,000 | $3,000 |
| Miscellaneous Personal Expenses | $500 | $500 | $500 | $500 |
| Federal Student Loan Fees | $120 | $120 | $120 | $120 |
| | $18,005 | $23,631 | $27,417 | $28,879 |
Note: For more information on how COA component estimates are calculated, see the bottom of the Tuition and Fees page.
Enrolled students can find their own calculated Cost of Attendance in NMC Self-Service under Financial Aid. Others can use the Net Price Calculator to estimate the total annual cost of attending NMC based on their program and enrollment plans, along with financial aid eligibility.
Music Department Spotlight: Canticum Novum
---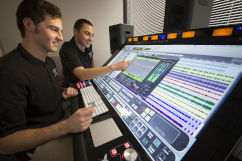 Please visit our Audio Technology program page for information about our Audio Tech program and how you can receive certification in Apple Logic Pro X and Avid Pro Tools.