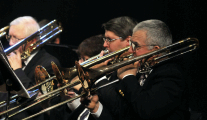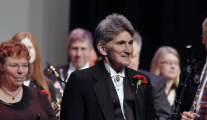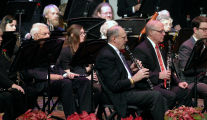 NMC Concert Band
The Northwestern Michigan College Concert Band is an adult musical organization supported by the College and made up of members of the community and NMC students. Since its inception, it has grown from a small group of musicians to a group of 90+ artists today. The band operates on the academic calendar of the College. Rehearsals are held in Milliken Auditorium each Tuesday of the semester. There are four (4) performances during the academic year. These are presented at Milliken Auditorium. During the summer, there are normally four additional performances.
Rehearsals
Rehearsals are every Tuesday from 7–9 p.m. in Milliken Auditorium.
About The Conductor
Patricia Brumbaugh received her BA degree in Music Education from Olivet College in 1972, her Masters of Music Education from the University of Michigan in 1986 and is A.B.D. in a Doctoral program in French Horn Performance at the University of Memphis.
Pat retired as director of bands at Traverse City West Senior High School after 37 years of teaching. Prior to teaching at Traverse City West, Pat served as Director of Orchestral Activities at the University of Memphis, conducted the Germantown Symphony, served as the assistant conductor of the Memphis Youth Symphony and created and conducted the Memphis Area Youth Wind Ensemble. Ms. Brumbaugh also served for four years as Director of Bands at Arkansas State University in Jonesboro, Arkansas, and taught for 12 years at Ann Arbor Huron H.S., Jackson Northwest H.S. and Central Montcalm Public Schools in Stanton, Michigan.
In 1984, Pat was voted "Outstanding Young Band Conductor" in the nation by the American School Band Directors Association and in 2006, she was voted Outstanding Band Teacher of the Year in Michigan. In 2009, Pat was awarded membership in the exclusive American Band Masters Association. She has also conducted All-State Bands in Texas, Florida, Kentucky, and Indiana and is in demand as a clinician, adjudicator, and guest conductor.