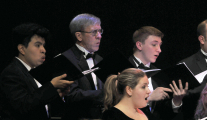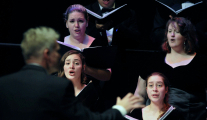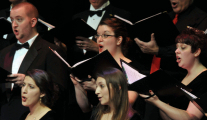 LINKS and INFO
Concert CD's are available here.
Links to Sightreading Sources
NMC Chamber Singers
The NMC Chamber Singers is a mixed-ensemble (SATB) offered for credit and non-credit through NMC Extended Educational Services. Membership is through audition, by appointment with Director Jeffrey Cobb. The audition includes vocalization, pitch matching and a simple sight-reading exercise. Rehearsals are on Monday and Wednesday evenings (5:30-7:00pm) weekly during the academic year. This ensemble performs twice each semester and frequently performs with the Traverse Symphony Orchestra.
Contact Jeffrey Cobb to set up an audition appointment.
important 2013-2014 dates
Monday, January 13 - First Rehearsal!
 Sunday, February 23 - NMC Choirs and NMC Children's Choir
Lars Hockstad Auditorium
Friday, April 25 - NMC Choirs in Concert
"Night and the Celestial Light" featuring Morten Lauridsen's "Lux Aeterna"
REHEARSAL SCHEDULE

Monday, Jan. 13 (5:30-7:00pm) FA115
- rehearsal
Wednesday, Jan. 15 (5:30-7:00pm) FA115
- rehearsal
Monday, Jan. 20 (5:30-7:00pm) FA115
- Introitus (A-C)
- Daemon (m.1-17)
Wednesday, Jan. 22 (5:30-7:00pm) FA115
- review Introitus (A-C)
- Introitus (C-F)
- review Daemon (m.1-17)
- I Am In Need (m.1-30)
Monday, Jan. 27 (5:30-7:00pm) FA115
- review Introitus (C-F)
- Introitus (F-end)
- Daemon (m.17-27)
- review I Am In Need (m.1-30)
Wednesday, Jan. 29 (5:30-7:00pm) FA115
- review Introitus (all)
- review Daemon (m.17-27)
- I Am In Need (m.34-55)
Monday, Feb. 3 (5:30-7:00pm) FA115
- In Te Domine (beg.-B)
- Daemon (m.27-43)
- review I Am In Need (m.34-55)
Wednesday, Feb. 5 (5:30-7:00pm) FA115
- review In Te Domine (beg.-B)
- In Te Domine (B-end)
- review Daemon (m.27-43)
- I Am In Need (m.60-end)
- Hope for Resolution (intro)
Monday, Feb. 10 (5:30-7:00pm) FA115
- review In Te Domine (B-end)
- Introitus P-C (all)
- Daemon (m.43-end)
- review I Am In Need (m.60-end)
- Hope for Resolution (all)
Wednesday, Feb. 12 (5:30-7:00pm) FA115
- O Nata Lux (beg.-C)
- review In Te Domine (all)
- review Daemon (m.43-end)
- review I Am In Need (all)
- review Hope for Resolution (all)
Monday, Feb. 17 (5:30-7:00pm) FA115
- Daemon P-C (all)
- I Am In Need P-C (all)
- review Hope for Resolution (all)
Wednesday, Feb.19 (5:30-7:00pm) FA115
- review and refine all
Saturday, Feb. 22 DRESS REHEARSAL
- 4:30-6:00pm
- Lars Hockstad Auditorium
Sunday, Feb. 23 PERFORMANCE
- 2:00pm Call Time
- 3:00pm Concert
- Lars Hockstad Auditorium
Monday, Feb. 24 (5:30-7:00pm) FA115
- review In Te Domine (all)
- review O Nata Lux (beg.-C)
- O Nata Lux (C-end)
- O Schone Nacht sectionals (m.1-45)
Wednesday, Feb.26 (5:30-7:00pm) FA115
- In Te Domine P-C (all)
- review O Nata Lux (all)
- review O Schone Nacht (m.1-45)
- Lux Aurumque (m.1-17)
Monday, March 3 (5:30-7:00pm) FA115
- Veni Sancte (beg.-C)
- O Nata Lux P-C (all)
- review O Schone Nacht (m.1-45)
- review Lux Aurumque (m.1-17)
- Nachtens sectionals (m.1-15)
Wednesday, March 5 (5:30-7:00pm) FA115
- NO REHEARSAL
Monday, March 10 (5:30-7:00pm) FA115
- review Veni Sancte (beg.-C)
- Veni Sancte (C-end)
- O Schone Nacht sectionals (m.45-end)
- Lux Aurumque (m.17-29)
- review Nachtens (m.1-15)
Wednesday, March 12 (5:30-7:00pm) FA115
- review Veni Sancte (C-end)
- Agnus Dei (beg.-C)
- review O Schone Nacht (m.45-end)
- review Lux Aurumque (m.17-29)
- review Nachtens (m.1-15)
Monday, March 17 (5:30-7:00pm) FA115
- review Agnus Dei (beg.-C)
- Agnus Dei (C-E)
- review O Schone Nacht (m.45-end)
- Lux Aurumque (m.29-end)
- Nachtens sectionals (m.15-27)
Wednesday, March 19 (5:30-7:00pm) FA115
- review Agnus Dei (C-E)
- O Schone Nacht P-C (all)
- review Lux Aurumque (m.29-end)
- review Nachtens (m.15-27)
Monday, March 24 (5:30-7:00pm) FA115
- Agnus Dei (F-H)
- Veni Sancte P-C (all)
- review Nachtens (m.15-27)
Wednesday, March 26 (5:30-7:00pm) FA115
- review Agnus Dei (F-H)
- Agnus Dei (H-end)
- Lux Aurumque P-C (all)
- Nachtens sectionals (m.27-end)
Monday, March 31 (5:30-7:00pm) FA115
- NO REHEARSAL, Spring Break
Wednesday, April 2 (5:30-7:00pm) FA115
- NO REHEARSAL, Spring Break
Monday, April 7 (5:30-7:00pm) FA115
- review Agnus Dei (H-end)
- review ALL OTHERS
- review Nachtens (m.27-end)
Wednesday, April 9 (5:30-7:00pm) FA115
- NO REHEARSAL
Monday, April 14 (5:30-7:00pm) FA115
- Nachtens P-C (all)
Wednesday, April 16 (5:30-7:00pm) FA115
- Agnus Dei P-C (all)
Monday, April 21 (5:30-7:00pm) FA115
- rehearsal
Wednesday, April 23 DRESS REHEARSAL
- 5:30-9:00pm
- Milliken Auditorium
Friday, April 25 PERFORMANCE
- 6:00pm Call Time
- 7:30pm Concert
- Milliken Auditorium