A message from NMC President Nick Nissley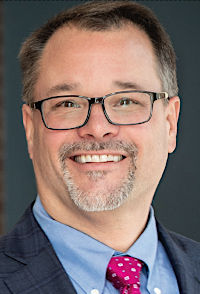 Northwestern Michigan College is reimagining learning by executing its most comprehensive strategic plan in decades, NMC Next. The plan brings renewed energy and focus to fulfillment of an updated college mission to "deliver lifelong learning opportunities to transform lives and enrich our communities" between now and 2025.
A year in development, it was a comprehensive, transparent and inclusive process, engaging students, employees, community members, business partners, education partners and donors around opportunities, needs and challenges in learning. This broad stakeholder engagement was crucial to developing a plan that is truly NMC's, one which will position the college for future success in a time of rapid transformation.
Data-driven and focused on measurable results, NMC Next is also designed as a living document. Just as the needs of our learners and community change, the plan can and will be updated and adjusted along the way. Thanks to 70 years of history, we know NMC has both the agility and ability to do so. NMC Next provides the guidance to help us get there.
This vital work will be led by a new Vice President for Strategic Initiatives, Jason Slade. Regular communication and transparency will continue to characterize NMC Next, via the progress trackers in each Strategic Goal statement below. We look forward to continued engagement, and to leveraging past successes into future opportunities together.

---
Our Pledge: Learner Experience Statement

NMC will provide an enriching education exemplified by a supportive and welcoming learner experience, characterized by:

An empowering environment that encourages learners to discover new knowledge and explore questions related to their future career and life's work;

A meaningful education that equips learners with relevant skills and supports them in developing their sense of purpose;

An inclusive community that values diversity and where all learners feel a sense of belonging and connection;

Caring instructors and staff who provide pathways to success and support learners through their college experience so they thrive in future endeavors.

NMC's faculty, staff and administration support this experience through:

Integrated services and effective communication to help learners successfully navigate academic, financial and transfer processes;

Flexible course delivery options and easily accessible resources that meet the evolving needs of learners;

Program maps and user-friendly technologies that allow learners to monitor their progress and receive frequent updates to enhance their decision making;

Campus programs that connect learners with peers, mentors and dedicated faculty and staff to ensure support throughout their educational experiences;

Experiential, hands-on activities that prepare learners for life outside college and engage them with business and community partners.
Our Mission, Vision and Values

Mission

We deliver lifelong learning opportunities to transform lives and enrich our communities.

Vision

We aspire to be a global community where all learners unlock their full potential.

Values

Learning: We are lifelong learners; learning is foundational to a thriving community and is at the center of all we do.

Integrity: We act with the highest degree of ethics, personal responsibility, fairness and openness ensuring that we match our actions with our words.

Collaboration: We embrace co-creative solutions and celebrate the joy of working together, empowering each other and nurturing community partnerships for the benefit of our learners.

Respect: We demonstrate mutual regard and appreciation for one another to assure a culture of trust.

Inclusion: We foster belonging and build organizational capacity that celebrates diversity and promotes equity.

Innovation: We are agile, imaginative and forward thinking, taking risks to meet future needs of the college and our communities.

Stewardship: We practice stewardship by investing responsibly in the human, physical, financial and environmental resources entrusted to our care.

Excellence: We commit to the highest standards of quality and service, and to exceeding the expectations of our learners and communities through continuous improvement.

Strategic Goals, Objectives and Progress Trackers

Future-Focused Education

Enhance offerings through flexible academic pathways, innovative instructional delivery models and relevant, hands-on educational experiences to empower global learners for the future.

Objectives:

1: Increase the annual number of students who receive prior learning credit from 236 to 270, using flexible academic pathways by December 2024.
2: Increase the proportion of online courses in fall and spring semesters from 28% to 35% by September 2024.
3: Increase student success and completion rates in online courses from 87% to 90% and hybrid courses from 92% to 95% by developing additional teaching strategies by December of 2024.
4: Create six shortened course pathways (two courses in one semester) in multiple academic disciplines by May 2024.
5: Every credential-seeking student will engage in at least one experiential learning opportunity (ELO) at NMC by September 2024.

Student Engagement and Success

Develop and deliver comprehensive support services, robust engagement opportunities and a vibrant collegiate experience to foster learner success, goal completion and employability.

Objectives:

1: Increase student sense of belonging through participation in extra and co-curricular activities for first semester students to increase 1st semester persistence from 77.7% in Fall 2019 to 82% by Fall 2025.
2A: Implement new enrollment marketing plans to increase the percentage of area high school graduates attending NMC by 3 percentage points (from 41% to 44%) by Fall 2024.
2B: Implement new enrollment marketing plans to increase enrollment in age categories 21+ from 1510 to 1660 (10%) by Spring 2024.
3: Enhance student completion supports to increase the three year completion success rate from 38.9% to 40.4% by Spring 2025.
4: Increase percentage of students using success coach services to increase College-level Course Enrollee Success Rate (2.0 and above) from 79.8% in Fall 2020 to 83% by Fall 2025.

Diversity, Equity and Inclusion

Cultivate an inclusive environment that fosters a sense of belonging and delivers equitable opportunities so all students and employees are able to thrive and succeed.

Objectives:

1: Create a college DEI statement of definition and purpose; receive President's Council approval and share with the NMC Board of Trustees.
2: Implement staffing and resourcing for DEI efforts with the creation of at least a .5 FTE position by end of FY 2022.
3: Provide onboarding training and regular training opportunities on diversity, equity, and inclusion for all NMC employees by August 15, 2023.
4: Address the barriers to entry and success of vulnerable student populations to improve application to enrollment statistics from 28% to 35% for BIPOC students and improve 12 month retention of all vulnerable populations by 3 percentage points by Fall 2025.
5: Review and revise NMC systems, policies, and procedures for inclusive and equitable language and processes across college systems by Dec. 2025.

Community Partnerships and Engagement

Enhance collaborations that advance community engagement, economic and workforce development and innovative opportunities for lifelong learning.

Objectives:

1: Leverage and enhance existing partnerships, and identify new key partnerships, in order to increase NMC's overall job performance in responding to the "community's learning needs" by 2.5% (3.87 to 3.97) in Grand Traverse County by 2024 using the Community Attitude and Awareness Survey (CAAS).
2: The community believes providing skilled trades instruction is the highest priority for NMC (8.86 CAAS, 2018), but rates NMC's performance in this area lower (8.21 CAAS, 2018.) NMC will increase performance rating by 8% by Spring 2024.
3: Providing personal enrichment has become more important for the community with scores increasing from 7.11 to 7.80 over the last three CAAS surveys. NMC will align lifelong learning opportunities to the community's needs resulting in a less than 17% cancellation rate and be net revenue positive by June 30, 2025.
4: NMC will increase access to four year college programs by improving the "Providing access to other college programs" performance metric by 2.5% (from 8.29 to 8.50) in Grand Traverse County by 2024 as measured by the Community Attitude and Awareness Survey (CAAS).

Institutional Distinction and Sustainability

Leverage distinctive programs that strengthen institutional sustainability and expand global connections for our learners and communities.

Objectives:

1: Aviation will execute its multi-phase expansion plan in an effort to increase enrollment by 25% and annual net revenues by 33% from June 30, 2021 to June 30, 2024.
2: The Great Lakes Water Studies Institute will leverage its assets and geographical position on the Great Lakes to become a leading center for marine and geospatial programs, providing academic pathways, training & professional development, and other innovative technical services which generate positive net revenue by June 30, 2025.
3: The Great Lakes Culinary Institute will execute its "Reimagining" plan, which is to modernize curriculum, increase enrollment, and maximize utilization of the current Lobdell's space to achieve a net deficit no greater than $150,000 by June 30, 2023.
4A: The Dennos Museum Center will execute the key financial stewardship initiatives from the DMC Strategic Plan 2020–2025 by June 30, 2025.
4B: The International Affairs Forum will execute the IAF Business Plan for Strategic Growth to create a sustainable business operation by June 30, 2025.
4C: WNMC will execute the action steps defined in the Refocusing WNMC: A 5-Year Plan to increase engagement/listenership and sustain WNMC's operations by June 30, 2025.
5: The Great Lakes Maritime Academy and Great Lakes Culinary Institute will leverage existing expertise and resources to develop and offer a maritime culinary certificate by Fall 2023, which will expand opportunities for students in this niche, high demand area.

Future State

If a strategic plan is a roadmap, where will NMC Next take us? Imagine Fall semester, 2025:

From English to engineering, from computer programming to culinary, NMC students are reaching their goals faster with accelerated programs of study, more online options and expanded credential choices. By engaging with hands-on, real-world problem solving, they're also having a richer experience and becoming independent, self-directed learners.

All students and employees feel they belong at NMC. Traditional and adult learners alike are taking advantage of coaching and other support services and participating in extracurricular events. More Black, indigenous, people of color and low-income students are enrolling, and choosing to continue their education here. NMC's campuses are even more welcoming. The college is a model for diversity, equity and inclusion.

Our community connections are stronger than ever, with mutually beneficial partnerships visible on multiple campuses, including at Lobdell's Teaching Restaurant. Unique programs like Aviation, the Great Lakes Water Studies Institute and Dennos Museum Center have achieved additional distinction and financial growth. The Grand Traverse community will report even higher levels of satisfaction with "our community's college." Soon we will all join together again to ask, what's next for NMC?
---
Thank you!
To the more than 1,000 participants who helped create NMC's Strategic Plan, including community residents, alumni, students, faculty and staff, board members and donors.
---

Strategic Plan sections
---
---
---
---
To ask questions, or to provide ideas and feedback, email strategic-planning@nmc.edu.