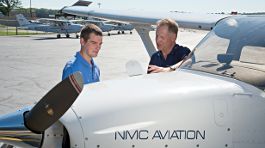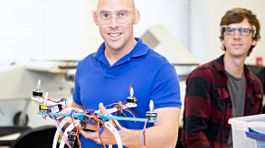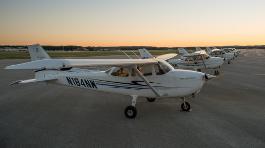 Aviation
Become a pilot! It's a great time to train to become a commercial pilot. NMC students can earn FAA ratings and an associate degree in less than two years so they can enter the job market faster. We offer first-class instruction in a top quality, diverse fleet of aircraft in a great location. NMC graduates enjoy high employment placement rates in the charter, airline, freight, flight instruction, seaplane, and unmanned aircraft fields. The program offers a myriad of FAA ratings and licenses including Private, Instrument, Commercial, Multi-Engine and Flight Instructor certificates for fixed wing aircraft.
Program Highlights:
VA-approved
Ratings in less than two years
Competitive costs offering exceptional value
Bachelor Degree options with partner universities
FAA Part 141 training — same ratings at fewer hours and lower costs
GPS-equipped, glass cockpit aircraft fleet
Aerobatics, tailwheel, and seaplane training
Flight Instructing opportunities
International Partnership program offers exciting opportunities
Unmanned Aircraft Systems courses (drones)
Non-degree flight training available
Training pilots since 1967
Envoy Pipeline Agreement
NMC Aviation signed a partnership agreement with officials from Envoy Airlines that provides strong financial incentives and outstanding job opportunities for program graduates. Read the press release »
Pilot Shortage Looms
Regional airlines are predicted to be hit hardest as pilot retirements increase and new rules take effect. One regional airline is even offering $5,000 signing bonuses for new pilot hires. Learn more about career opportunities »
In the News:
National pilot shortage impacts northern Michigan aviation industry
"We're trying to develop relationships with the students at NMC earlier and earlier all the time; it's a tremendous asset for us to have that." - Matt Besaw, Air Services Inc. Director of Operations
9&10 NEWS
March 11, 2016
Pilot light: America is running out of people to fly its planes
"According to one analysis, in the next 20 years the supply of people to fly America's planes will meet just two-thirds of the demand."
THE ECONOMIST
March 9, 2016
College students studied drones before Amazon
"Tony Sauerbrey, Unmanned Aircraft Systems (UAS) program manager at Northwestern Michigan College, estimates there are only six college programs dedicated solely to unmanned aircraft system piloting and creation....
'It's exciting to be part of a brand new industry. It's like the Wright Brothers all over again,' Sauerbrey says."
USA TODAY
December 14, 2013
Students drawn to NMC's unmanned systems and robotics program
TRAVERSE CITY RECORD-EAGLE
September 30, 2013
NMC offers robotics, unmanned systems degree
TRAVERSE CITY RECORD-EAGLE
January 15, 2013