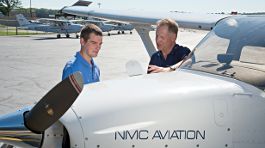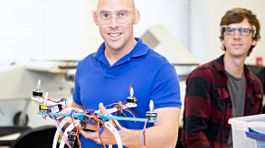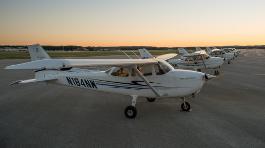 Aviation Degrees and Certificates
Become a Professional Pilot! It's a great time to start training for an aviation career—rising salaries, signing bonuses and retention bonuses, travel benefits—and with the pilot shortage expected to continue for the next 10 to 15 years, there have never been more opportunities!
Ratings you can earn: Private (Part 141), Instrument (Part 141), Commercial (Part 141), Multi-Engine, Flight Instructor, Instrument Flight Instructor, Seaplane
What are the top reasons for choosing to do your flight training at NMC?
Our small size allows for lots of personal attention
Associate and Bachelor degree options
Faster track to a professional pilot job

All flight training completed in the first two years
Start building time sooner, get hired sooner

Lower overall costs than other collegiate programs
We are VA-approved
Beaches, lakes, festivals—enjoy your free time in beautiful Traverse City!
Where do I start? Contact the Aviation Division at (231) 995-2911 or aviation@nmc.edu to get program information and schedule a visit to see for yourself if NMC is the right place for you.
Course Descriptions
Course Sequence Guides
Program Requirements
Tuition and Fees
General Academic Programs

Tuition Rate

In-District ( Grand Traverse County residents) Tuition

$122.00 per contact hour

In-State ( other Michigan counties) Tuition

$261.00 per contact hour

Out-of-state Tuition

$340.00 per contact hour

International Tuition

$383.00 per contact hour

General Fee for all residencies:

Other fee of $33.00 per contact hour is a general fee covering a portion of costs for technology, orientation, placement, career testing, Student Government Association, and other student service activities.

$33.00 per contact hour
Cost of Attendance
Aviation Programs Annual (Fall/Spring) Cost

| Costs | In-District | In-State | Out-of-State | International |
| --- | --- | --- | --- | --- |
| TUITION AND FEES | $39,730 | $43,900 | $46,270 | $47,560 |
| BOOKS, COURSE MATERIALS, SUPPLIES AND EQUIPMENT | $1,013 | $1,013 | $1,013 | $1,013 |
| LIVING EXPENSES: ON-CAMPUS HOUSING AND FOOD | $10,200 | $10,200 | $10,200 | $10,200 |
| TRANSPORTATION | $1,000 | $1,900 | $3,000 | $3,000 |
| MISCELLANEOUS PERSONAL EXPENSES | $500 | $500 | $500 | $500 |
| FEDERAL STUDENT LOAN FEES | $120 | $120 | $120 | $120 |
| | $52,563 | $57,633 | $61,103 | $62,393 |
Note: For more information on how COA component estimates are calculated, see the bottom of the Tuition and Fees page.
Enrolled students can find their own calculated Cost of Attendance in NMC Self-Service under Financial Aid. Others can use the Net Price Calculator to estimate the total annual cost of attending NMC based on their program and enrollment plans, along with financial aid eligibility.
Women in Aviation: Meet three graduates of NMC's Aviation program.
Bachelor Degree Options



NMC Partners With Regional Airlines
NMC Aviation has signed partnership agreements with regional airlines seeking to recruit NMC Aviation graduates for pilot positions. NMC flight students and graduates can take advantage of sponsored opportunities to visit company headquarters, observe training, receiving mentoring, and interview for conditional job offers through Envoy, Republic, ExpressJet, and SkyWest.
Regional Airlines Offer Signing Bonuses
As regional airlines compete for qualified pilot applicants, many airlines are offering signing bonuses for new hires, with some bonuses exceeding $20,000. See the list by looking at "The Grid" in the latest Aero Crew News issue at issuu.com/aerocrewnews »
Show your NMC Aviation Pride!
Aviation Program Apparel, Gifts & Supplies
---
In the News:
Taking It Higher: NMC Plots Aviation Program Expansion
THE TICKER
March 26, 2022
Commercial airline pilot shortage reflected by student demand for NMC aviation program
UP NORTH LIVE
Oct 30, 2019
Girls in Aviation Day at NMC encourages youth to explore male-dominated industry
TRAVERSE CITY RECORD EAGLE
Oct 7, 2019
Northern Michigan aviation students navigate male-dominated field
INTERLOCHEN PUBLIC RADIO
July 11, 2019
Local aviatrices to lift off in storied national race
NORTHERN EXPRESS
June 8, 2019
Program to add another Skyhawk as demand for pilots soars
TRAVERSE CITY RECORD-EAGLE
May 23, 2018
Inside the Cockpit at NMC's Aviation Program
MYNORTH.COM
July 1, 2017